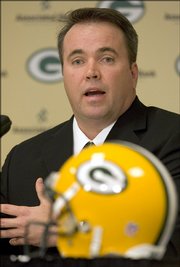 Mike McCarthy's success as a pro football coach has become a boon for Baker University football.
When McCarthy, a former BU tight end, signed a contract extension as the Green Bay Packers head coach earlier this year, the Wildcats' football program was included in the reported five-year, $20 million-dollar package.
According to fifth-year Baker head coach Mike Grossner, McCarthy will donate $50,000 a year for the next five years and the Packers will match that total each year.
In other words, Baker football will receive a $500,000 windfall over the next five years.
"I haven't heard of anything like this with any school in the country," Grossner said.
A large portion of the money will endow a scholarship in McCarthy's name for a junior college transfer. McCarthy transferred to Baker from an Arizona juco and became the senior captain on the 1986 BU team that finished as the NAIA Div. II national runner-up.
The remainder of the donation was earmarked for other scholarships with about five percent set aside for facility enhancements.
"Mike's gift will have a lasting impact," Baker athletic director Dan Harris said. "I can't think of any better way to honor his success and his commitment to this university."
McCarthy was named NFL Coach of the Year in 2007 after the Packers went 13-3 and captured the NFC North Division championship.
"The university made a positive impact on me," McCarthy said in a press release, "and that continues today. Much of my career success I owe to what I learned and took from my experiences there."
McCarthy and Grossner were teammates at Scottsdale (Ariz.) Community College in 1984. Then they took separate paths, McCarthy to Baker and Grossner to Bethany College in Lindsborg. But the two reconnected for a short time at Fort Hays State.
"He helped me get that job," Grossner said. "We lived next door to each other in Hays that spring."
During the bye week in the Packers' schedule last October, McCarthy returned to Baldwin City and was inducted into Baker's Hall of Fame.
Grossner said McCarthy mentioned to him last fall that he planned to include Baker football in his contract negotiations.
"Kudos to him. He didn't need to do anything," Grossner said. "He'd done enough, just coming back and talking to the team, and associating with the program."
McCarthy, who earned a business degree from BU in 1987, acted as his own agent during the contract talks, receiving legal advice from a brother who is an attorney.
Copyright 2017 The Lawrence Journal-World. All rights reserved. This material may not be published, broadcast, rewritten or redistributed. We strive to uphold our values for every story published.