Photo Gallery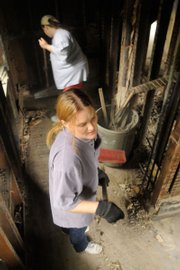 McCawley family picks the up pieces
How to help
The Eastside People's Market, 409 E. 12th St., is accepting monetary and material donations for Shannan McCawley and her family.
Douglas County Bank also is accepting monetary donations at any of its Lawrence branch locations.
Proceeds from a taco sale and garage sale this weekend will benefit the family. The taco sale will begin at 2 p.m. Saturday at the Jet Lag Lounge, 610 Fla. The garage sale, which will include baked goods, will be from 8 a.m. to 5 p.m. Saturday and Sunday at 3015 Bainbridge Circle.
Here is a list of pant, shirt and shoe sizes, respectively, for the Shannan McCawley family:
Richard Turner - 36x30 men's, large, 8.
Shannan McCawley - 22 women's, 4-extra large, 8.
Dominicke McCawley - 40x32 men's, extra large, 12.
Leah Worester - Maternity clothes, 13-15 women's, large, 8.
Damitrious McCawley - 34x30 men's, large, 8.
Mariah Howard - 6 women's, medium, 7.
Destini Howard - 10 girls, 14-16, 3-4.
Kristine Howard - 10 girls, 14-16, 3-4.
Sarah Turner - 3-4 toddler, 3-4, 6-7.
Richia Turner - 3-4 toddler, 3-4, 6-7.
Three weeks after a devastating fire, 33-year-old Shannan McCawley is determined to rebuild the east Lawrence home where she and her seven children grew up.
Shannan said her late mother, Shirley McCawley, is her motivation.
"It is so important for us to keep it and get it rebuilt because it was our mom's," Shannan said. "She fought hard for the house. My kids, my sister's kids, the whole neighborhood - everybody has been in this house, grew up in this house. My mom never turned anybody away."
After her 22-year marriage ended, Shirley McCawley managed to take care of an expanding family while her health declined because of emphysema. Longtime neighbor Odessa Shorter recalled Shirley's kindness and willingness to share when she didn't have much to give.
"She was a woman who just loved her family and she made sacrifices to try to keep her family together regardless of how crazy it seemed over there," Shorter said with a smile. "The children were her biggest concern and I am happy to see them really putting forth an effort."
Shannan said her mother meant the world to her, and she offered to donate a lung, but her mother wouldn't accept the offer.
"My life revolved around her," she said. "I am not going to let her down."
The three-story home at 1141 N.Y. was destroyed by fire on June 12, just two years after Shirley died at age 55. Shannan's older sister, Tonya Beard, also a co-owner of the house, said it was like dejà vu; the day of the fire was rainy like the day of her mother's death.
'A significant process'
Lawrence-Douglas County Fire & Medical determined faulty electrical wiring behind the refrigerator sparked the blaze. Division Chief Rich Barr said the estimated damage was $81,000 for the building and $25,000 for contents.
"There was one room that was severely damaged, but every room had smoke damage and some heat damage," Barr said. "It's going to be a significant process. There's no doubt about that."
Unfortunately, the home was uninsured and Shannan's timing couldn't have been worse.
"I kick myself because I had the money for the insurance on the house in my pocket on Thursday," she said.
Shannan took her oldest son, Dominicke McCawley, 17, to get his graduation pictures taken and then attended his GED ceremony with the rest of her children.
"I got the text on the way home that the house was on fire. I was like, 'Oh, Jesus, no,' and we got here and, yeah, it was on fire," she said.
Insuring the home was expensive - $260 per month - because of the work that needed to be done. Beard said she isn't mad because she knows that Shannan and her fiance, Richard Turner, are struggling.
Shorter said this was the second household in her neighborhood that sustained damage and didn't have insurance.
"Sometimes people have to choose between eating and insurance. It's a tough economy and sad situation," she said.
Despite her ups and downs, Shannan remains hopeful and prays a lot.
"We are going to make it. I fully believe that God is going to see us through this, and I pray that we can get it done before school starts back up with the kids."
In the meantime, her children - Dominicke; Damitrious McCawley, 13; Mariah Howard, 10; twins Destini and Kristine Howard, 7; Sarah Turner, 3; and Richia Turner, 2 - are staying with family and share a big room where they sleep on the floor. Shannan also takes care of Leah Worester, 15, whose parents have died. She is pregnant and due July 15.
"They are being little soldiers," Shannan said of her children. "My 13-year-old, he is taking it the hardest because he never moved out of the house. ... He was grandma's boy."
Shannan said although the children lost their toys and clothes, they are grateful no one was hurt.
"We are doing by with what we have," she said. "This is one of our struggles that we are going to have to go through as a family, and we are going to have to stay close - really close."
Dominicke quit his job to help his mom and aunt clean up at the house. There was laughter as they shared stories and memories last week. They talked about salvaging a white antique bathtub that Shirley adored.
"The tub was the most precious piece in the house," Shannan said. "She didn't want a shower. She loved the tub."
Also a wooden sign with the family's last name and metal bell - both hanging on the front porch - remained unscathed.
"The kids loved to ring that bell and talk to grandma on the porch," Shannan said.
Dominicke found a picture of an angel that his mother had given his grandmother, who collected angels and Jesus pictures. He placed it in the front window.
"Now, she is watching over the house," he said.
'Eastside support'
The community also seems to have spread its wings and offered help.
"We've had a lot of support and a lot of love from the eastside community. People I don't even know are coming up to us and helping," Shannan said. "It touches our hearts to even have them come by and say, 'I am sorry.'"
Her backyard neighbor Austin Elser is providing a fenced-in home for their dog, Elli. And 63-year-old Red Wilson, who lives a block away, helped with cleanup despite an aching back and shoulder. The People's Eastside Community Market, just around the corner, is accepting donations. Several neighbors, including Shorter, have offered paint and wiring when the rebuilding begins. Shannan's uncle, a certified electrician, has offered his services. But first, the family needs to raise between $300 and $500 for an estimate.
Shannan, who works at Vangent Inc., is putting aside as much money as possible. The American Red Cross provided the family with the maximum amount of short-term assistance that they could - mostly food and clothing.
"Unfortunately, because of the number involved, it's going to take a lot more to get them back on their feet and on the road to recovery," Jane Blocher, director of the Douglas County chapter, said. "They are one of the nicest families, I think, that we have ever assisted. They were lovely to work with, considering the magnitude of their loss."
Blocher said that during the night of the fire, it was easy to see that the children were well cared for and loved and that they had a circle of support.
"I think Shannan has a great heart. She really has done a lot for other people, so it's heartening to see the community trying to give back to her."
Copyright 2017 The Lawrence Journal-World. All rights reserved. This material may not be published, broadcast, rewritten or redistributed. We strive to uphold our values for every story published.