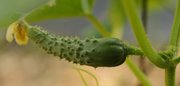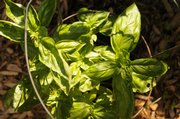 Good grief. There is this summer's tomato scare, the spinach fright of 2007 and the floods in Iowa that have drowned huge quantities of corn.
We want to eat foods like tomatoes, spinach and corn that are fresh and serve as a statement of perfection in their simplicity.
But in today's age of pesticides, herbicides and corporate farms, what are we really eating? The best way to answer that is simple: Grow your own food.
The joys of gardening are plentiful: the creative outlet it inspires, the can-do sense of accomplishment you'll feel at the first signs of life. The garden is your little spot of earth to do which what you may. Many the same joys are found in the kitchen, concocting recipes, nurturing your family and allowing that imaginative spirit to shine through in the food that graces your table.
Now visualize taking both inspired activities and feeding your soul inside and out, introducing the kitchen garden.
A kitchen garden is an important avenue in resting assured that the foods you are ingesting are wholesome. It provides a peace of mind that cannot remotely be repeated through trips to the farmers markets or any health food stores. There is something innately satisfying and abundantly invigorating about growing what you eat.
Douglas County Master Gardener Jon Standing finds creating a kitchen garden to be one of his more productive hobbies.
"The concept in Italy is from 'orto,' or to harvest around the house, which is how many people landscape," Standing says. "They collect from their own gardens to eat fresh every day; the Italians don't even keep eggs in the refrigerator but out on the countertop. The idea is to plant what you want to eat, harvest it and figure out how to cook what is ripe and ready. It is a small garden intended for the household."
Standing attended the University of California-Berkeley for graduate school, which is when he first became interested in kitchen gardens. An Italian friend and fellow student brought this idea to light. Standing and his family visited Italy a decade ago to see his old college buddy; they rented a farmhouse, ate a lot of gelato and even came home with a vial of Tuscan soil.
"It keeps me off the streets," Standing says, "I'm outside a lot, and it meshes with my food side. My specialty as a Master Gardener is vegetables. I'm a teaching-type personality, so I like to educate others about it."
Standing retired about a year and a half ago, and since then it has been his job to put dinner on the table.
"It is a small garden, so you have to be selective. You have to consider what you like to eat and cook," he says. "For instance, here is fennel, I love fennel, so I grow it. I have a few potato plants because the plant is pretty."
Standing also has asparagus, lettuces, okra, fava beans, celery and onions.
"I grow Swiss chard as it is a great substitute for spinach in the heat of the summer, plus the beautiful colors," he says. "I have a row of peppers and eggplant, although seed beetles will eat the eggplant. I think of my garden as very organic, but in the case of the eggplant you sometimes have to intervene."
Because Standing grows much of his own foods, he understands the concept of eating seasonally.
"I can taste the difference," he says. "Like now is an awful time to buy citrus. It's the dregs. People also tend to buy over-ripe items. You need to educate yourself on when foods are in season."
I ask him about the tomato scare that the United States is embroiled in.
He explains, "I don't buy tomatoes this time of year anyway because this is not the best time for them, and I'm picky."
In Standing's garden he has 20 or so tomato plants, with Brandywine being his favorite slicing tomato. He is experimenting with a few hybrids this season for disease reasons and opts for the Viva Italia as a canning variety.
It can be quite challenging trying to grow anything in our area.
"We have the wildest weather in the world," he says. "There may be a place in Asia that has weather crazier than Kansas, but even western Kansas has a more predictable pattern than eastern Kansas."
So because of the volatile nature of our climate, Standing suggests a few pre-emptive measures to help insure a successful kitchen garden
"Mulch," he suggests. "Try not to spray but rather use liners when you are first creating the garden, and mulch thoroughly. The single most important characteristic about the kitchen garden is the seasonal aspect of it - cool season, warm season, then cool again."
Copyright 2018 The Lawrence Journal-World. All rights reserved. This material may not be published, broadcast, rewritten or redistributed. We strive to uphold our values for every story published.