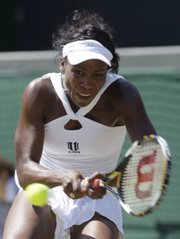 Wimbledon, England — The Williams sisters moved closer to another Wimbledon final Tuesday, using their power tennis to cruise into the semifinals in straight sets.
Defending champion and four-time winner Venus Williams beat Thailand's Tamarine Tanasugarn, 6-4, 6-3, and two-time champ Serena swept 19-year-old Agnieszka Radwanska of Poland, 6-4, 6-0.
The Williams sisters are in opposite halves of the draw and could meet in Saturday's final. The two have played twice before in the Wimbledon final, with Serena Williams winning both in 2002 and '03
"That would be amazing if we both were in the final," seventh-seeded Venus said. "I have to take it one more step and keep playing power tennis."
Venus next will face No. 5 Elena Dementieva, who wasted a 5-1 lead and two match points in the second set before beating fellow Russian Nadia Petrova, 6-1, 6-7 (6), 6-3, to reach her first Wimbledon semifinal.
Sixth-seeded Serena will play Zheng Jie, who became the first Chinese player to reach the semifinals of a Grand Slam by beating Nicole Vaidisova, 6-2, 5-7, 6-1. The 133rd-ranked Zheng is also the first wild-card entrant to reach the women's semis at Wimbledon and second at any Grand Slam.
The Williams sisters will be heavy favorites to set up their sixth Grand Slam final showdown. Serena leads 5-1 in Slam finals and 8-7 in overall matches.
"We want to deserve to be there," Venus said. "We have to play the best tennis to deserve it, so our aim is just to play better than our opponents and really deserve to be there."
Copyright 2018 The Lawrence Journal-World. All rights reserved. This material may not be published, broadcast, rewritten or redistributed. We strive to uphold our values for every story published.