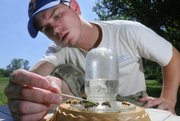 Bees. They can be a nuisance, hovering around picnics and menacing pets and children. But researchers at Kansas University think they might be the key to harnessing new types of engineering technology.
Rudolf Jander, professor of animal behavior, and two students, Jason Palikij and Daniel Najera, are studying how European honeybees find their way back to their hives when disoriented. It's research that could produce a new generation of unmanned space vehicles or safer firefighting techniques.
"If they can close some of the knowledge gap about bee orientation, it would be quite helpful for the engineers," Jander said. He said engineers are fascinated by how insects use their tiny brains, and so they look to scientists for explanations. The research is being done in a field near the Dole Institute of Politics.
Palikij, a graduate student in entomology, is hoping to "train" honeybees to find their way back to their hives. Studying a theory he calls the Peripheral Correction Area, Palikij spends his days observing the bees' travel patterns. He began the experiment in mid-June.
"Bees have been studied for a long time," said Palikij, 26, noting that Aristotle observed bees in ancient times. But the type of work he is doing is unlike anything the Greek philosopher could have imagined.
"In terms of entomology and insect behavior, it is groundbreaking," he said.
Palikij uses two tables, spaced 15 meters apart, and two jars with an enticing licorice-smelling syrup, to observe the bees as they feed on the liquid, then fly off to their hives. Periodically, he will move the jars to different tables, confusing the bees. He can then watch to see whether they find their bearings.
He observes for five minutes at a time, or for 15 bee departures, taking notes on a voice recorder about where the bees go after feeding.
The researchers have had one problem: Other bees joining for dessert.
To differentiate between his bees and others, Palikij dabs his with green paint, gently tapping them with a cotton swab tipped with water-based paint.
"I'm not Picasso, but it does the job," he said.
This leg of the experiment will be complete by Friday. The next phase is to disorient the bees by taking them about 150 meters away from the hive, then moving them to a feeding area 15 meters from the hive.
Bees might be pesky, but they deserve to be researched, Jander said.
"It is very difficult to overstate the importance of honeybees in agriculture, economics and scientific insight," he said. "There is no other insect in the world that has had more scientific research than honeybees."
Copyright 2018 The Lawrence Journal-World. All rights reserved. This material may not be published, broadcast, rewritten or redistributed. We strive to uphold our values for every story published.