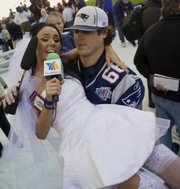 Glendale, Ariz. — The Patriots and Giants took turns sitting at their sideline podiums on Tuesday, enduring the absurdities of Super Bowl media day while offering as much false good humor and as little true information as possible.
The rest of the world looks very insignificant down there, from the vantage of the tall, folding chairs set on risers. It is easy to believe you are far above the rabble, even when the lady from El Azteca arrives dressed as a bride.
El Azteca is either a Mexican television network or a triple-hot picante sauce, and the lady in the wedding dress could have worked for either. It was difficult to tell.
She had come to offer herself in matrimony, at the very least, to New England quarterback Tom Brady, which must have made for good programming back in Juarez or one heck of a chimichanga.
Brady demurred politely. His dance card is apparently full at the moment. The bride shrugged, nearly losing her decolletage in the process, and moved on to coach Bill Belichick. If she thought Brady was a tough case to crack, she hadn't seen anything yet.
"Tom Brady, he told me no. Do you not think I am prettier than Gisele?" she said, referring to Brady's supermodel girlfriend.
Belichick smiled a tight smile. Was he bemused? Livid? Unconscious?
"I wouldn't go that far," Belichick told the bride.
That was the highlight of the day. If it doesn't sound like much, you should have heard the rest. The Patriots are not thinking about history. They are just thinking about Sunday's game with the Giants. The Giants are not feeling just lucky to be here, they think they belong. And on and on. Sure, the Patriots would like to win one for 39-year-old Junior Seau. Yes, Eli Manning wants to hold up the trophy just like big brother. On and on.
The elephant in the living room, or on the sideline, is that the Patriots, who have yet to endure their virgin loss this season, are hardly virginal. They are undefeated and revered and dressed in winner's white, but then again, so was Miss Azteca.
Belichick was fined $500,000 by the league at the beginning of this season for cheating. The team was fined an additional $250,000 and will be docked a first-round draft choice. The Pats, in what has become known as Spygate, were caught illegally trying to collect and catalog the defensive signals of the New York Jets.
No one seems to care. Belichick was quizzed for an hour on Tuesday about everything from his favorite films ("Gone With the Wind, "The Bourne Identity) and his favorite snacks ("Anything with salt"), but the one passing reference to the cheating scandal was met with the same tight smile and "Next question." End of story.
A few podiums away sat 35-year-old safety Rodney Harrison, who missed the first four games of the season when he was found to have ordered and used human growth hormone. Harrison said at the time that he didn't use the drug in order to play better, but in order to merely play. He has come back from several knee injuries and used HGH to help with the rehabilitation.
Harrison was asked this week, in so many words, why there are congressional hearings every time a baseball player uses performance-enhancing drugs, but football players just do their four games and move on.
"That is none of my concern," Harrison said. "I'm just here looking forward to and planning on beating the Giants and preparing for them. That's none of my concern."
Copyright 2017 The Lawrence Journal-World. All rights reserved. This material may not be published, broadcast, rewritten or redistributed. We strive to uphold our values for every story published.