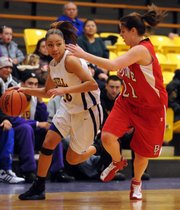 Whitney Warrior was a warrior against the Warriors. And so were her Haskell Indian Nations University teammates.
Five Fightin' Indians scored in double figures, led by Warrior's 16 points, in a 75-63 women's basketball victory over Bacone College on Tuesday night at Coffin Complex.
"As a team we really have clicked," said Warrior, a 5-foot-10 senior from Stillwell, Okla. "We're enjoying each other's company and playing well."
Haskell made Bacone its third straight victim and evened its record at 11-11.
"I was a little worried," coach Phil Homeratha said. "A couple of weeks ago, we lost four in a row and it seemed like we had lost our legs."
Then the Indians made a road trip to Nebraska over the weekend and posted victories over York College (65-56) and College of St. Mary (62-60) to boost their MCAC record to 3-1, the best league mark HINU has had at this stage of the season.
Bacone wasn't a conference game, however, and for awhile it appeared the Indians weren't thrilled about the meeting.
Led by Nichole Brazelton, a bulky 5-10 junior who wheeled and dealed with near impunity inside, Bacone bolted to a 33-28 lead at the break.
"We tried a zone and the zone didn't work against her," Homeratha said, "so I brought two guards in on her and denied her the ball."
The strategy worked. Brazelton scored only five of her game-high 17 points in the second half, and one was a late three-pointer.
At the same time, the Indians ran the Warriors ragged.
"We played sloppy in the first half," junior point guard Kortney Smith said, "but we said at the half that they'll get tired if we push the ball. So we pushed it and pushed it."
Bacone hit the wall midway through the last 20 minutes. The Warriors led 38-36 with about 14 minutes remaining. Then HINU went on a 14-0 run over the next five minutes for a 50-38 cushion. Bacone never threatened the rest of the way.
HINU outscored the gassed Oklahomans, 47-30, after intermission.
"The second half," Warrior said, "is always our half."
That's not a claim the Indians could make last season.
"The second half used to be a drought for us," Smith pointed out. "But this year we have more athletic people and we don't die off."
Copyright 2018 The Lawrence Journal-World. All rights reserved. This material may not be published, broadcast, rewritten or redistributed. We strive to uphold our values for every story published.