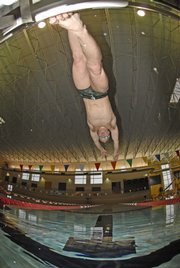 This Saturday when the Free State High boys swimming and diving team takes to the water for the Sunflower League championships at Chisholm Trail Junior High in Olathe, senior captain Mitch Moore will be living it up in the Windy City?
Well, not exactly.
Moore, who owns a school record in the 100-yard breaststroke (1:00.65) and already has qualified for state in that event as well as the 50- and 100-yard freestlye and the 100-yard butterfly, is a well-balanced student-athlete with a scheduling conflict on his hands. Moore serves as the vice president for FSHS's Model United Nations and is leaving tomorrow for a Model UN weekend event in Chicago.
"Kind of bad timing," Moore said, noting that he had to respect his vice-presidential responsibilities. "I'm wishing all my team good luck."
The team respects his decision, but his absence will be felt.
"We'll miss him terribly," coach Annette McDonald said, "but at the same time he'll be doing something that's representing his school, and we're really proud of that."
Academics and athletics are equally important to Moore - "I'm really comfortable managing a lot of different tasks," he said.
At FSHS, he is not only involved in swimming and Model UN; he is also a National Honor Society member, an Advanced Placement Scholar with distinction and DECA president.
"I've worked most of high school trying to figure out what that balance is between having a social life, doing academics, and maintaining swimming," Moore said. "Right now I'm right where I want to be."
By now Moore is accustomed to juggling life's responsibilities, and he said the secret is having a little fun.
"If I didn't have free time or a social life, I would probably be just a mess," he said. "It's definitely important to keep it balanced."
His diverse, yet balanced, activities next year will take him to another place he wants to be - New York University. Moore said NYU was his "dream school" because it offers a unique learning environment - the Gallatin School of Individualized Study where students can tailor a program to their educational needs and interests (Moore wants to combine arts and communication with business and advertising) - and he can swim at the NCAA Division III level, which wasn't a possibility at some other schools he thought about attending.
Although swimming is a big part of his life, Moore didn't get into it until he was eight years old. He was taking some swim lessons when he saw the local team practice.
"The very next year I got in the pool, and it was magic," he recalled, adding that he had the perfect personality for the sport. "In general, I'm a competitive person, and most of the other sports that I tried (soccer, football, basketball, etc.) I just wasn't that great at. When I started swimming it was just a natural fit."
McDonald said since joining the team as a freshman, Moore has matured into a natural leader.
"This year he came into the season ready to lead the team," she said. "I think the big thing is his focus. His focus is for everybody to do well, he encourages everybody."
That leadership role is one of the things Moore most enjoys about his captain status.
"It's an individual sport, but you still have a lot of the benefits of being on a team. I just like coming to the pool everyday and working," he said, adding that he learning how to listen to people, along with all of his other activities, should prep him for college life at NYU. "I'm involved in a lot to get to where I want to be."
Saturday Moore will be more than 500 miles away from his team, possibly on Michigan Avenue having fun during one of the conference breaks, but the FSHS captain will have his teammates on his mind.
"We've got a great team," Moore said, "and we'll be fine."
Copyright 2018 The Lawrence Journal-World. All rights reserved. This material may not be published, broadcast, rewritten or redistributed. We strive to uphold our values for every story published.