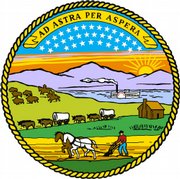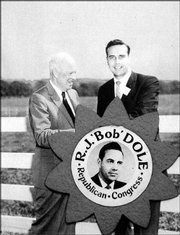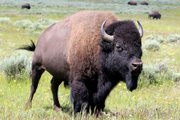 On the street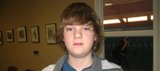 We learned about Quantrill's Raid, the reasons it happened and the events that followed.
Kansas has 2.7 million residents, 83,000 square miles and 147 years of history.
That's a lot of people, space and time for you to know about your home state.
So today, as Kansas celebrates its birthday, here are questions to test how much random trivia you know about your state. Answers are found at the bottom of this story.
History
1. What does the name "Kansas" mean?
2. Which number of state to enter the union was Kansas?
3. A particular type of gas was discovered in a Kansas University laboratory. What was that gas?
4. Which famed Spanish explorer traveled as far north as Kansas?
5. Which Kansan lost the 1936 presidential election?
6. What aviation vehicle did Rex Maneval of Centralia invent?
Land & Geography
7. How many cities in the state are larger than Lawrence?
8. Which Kansas geologic feature runs from north of Manhattan to near Winfield?
9. True or false: Kansas' boundaries include the geographical center of the 50 states.
10. What is the only Kansas county named for a woman?
11. Which is the largest lake in Kansas?
12. True or false: One-fifth of all wheat grown in the United States comes from Kansas.
13. Mennonites from which country introduced hard red winter wheat to Kansas?
Landmarks & Attractions
14. Who designed the Kansas Statehouse? (Hint: He also designed several buildings in Lawrence, including the Douglas County Courthouse).
15. In what Kansas city can you find the Oz Museum?
16. Original copies of Hollywood movies and government documents are kept in Hutchinson. Where, specifically, are they housed?
17. An earthwork devoted to which Kansas aviator is found in Atchison?
People
18. What city is both home to Rock City and was the boyhood home of George Washington Carver?
19. Susanna Madora Salter of Argonia was the first of her kind in the history of local U.S. governments. What did she do?
20. Where is President Dwight D. Eisenhower buried?
21. "What's the Matter with Kansas?" is a recent book by Thomas Frank. Who originally coined the phrase?
22. Dr. John Brinkley, who was from Milford, claimed he could cure fertility problems in men by implanting what in them?
23. Two U.S. senators were born in Russell - Bob Dole was one of them. Who was the other?
Sports
24. What Hall of Fame pitcher was from Humboldt, in southeastern Kansas?
25. What Kansan was the first female member of the Harlem Globetrotters basketball team?
26. What small Kansas town's football team is undefeated for the past four years and scored 72 points in one quarter during a game last season?
27. What Wichita-born running back won the Heisman Trophy?
Quirks
28. Cawker City has been in competition with Darwin, Minn., over the decades over what?
29. Larry Farmer of Oakley is looking to sell his roadside attraction along I-70, which claims to contain what?
30. Northeast Kansas is home to two famous dead horses. Name one of them.
31. A gigantic easel and mural in Goodland depicts which famous painting?
Pop Culture
32. What billionaire media mogul owns a buffalo ranch in southwest Kansas?
33. Which pizza chain originated in Wichita?
34. Which "Daily Show with Jon Stewart" reporter is from Overland Park?
35. What fictional superhero was born in Kansas?
The answers
1. "People of the south wind"
2. 34th
3. Helium
4. Coronado
5. Alf Landon
6. Helicopter
7. Five (Wichita, Overland Park, Kansas City, Topeka and Olathe)
8. Flint Hills
9. False (it does contain the center of the 48 contiguous states)
10. Barton County (for Clara Barton)
11. Milford Lake
12. True
13. Russia
14. John G. Haskell
15. Wamego
16. Salt mines
17. Amelia Earhart
18. Minneapolis
19. Was elected mayor
20. Abilene
21. William Allen White
22. Goat glands
23. Arlen Specter
24. Walter Johnson
25. Lynette Woodard
26. Smith Center
27. Barry Sanders
28. Who has the world's largest ball of twine
29. The world's largest prairie dog (it's made of concrete)
30. Comanche (only U.S. government survivor of the Battle of Little Big Horn, found in Lawrence) and Chief (last horse in the U.S. Cavalry, found at Fort Riley)
31. "Sunflowers" by Vincent van Gogh
32. Ted Turner
33. Pizza Hut
34. Rob Riggle
35. Superman (Clark Kent)
Copyright 2018 The Lawrence Journal-World. All rights reserved. This material may not be published, broadcast, rewritten or redistributed. We strive to uphold our values for every story published.