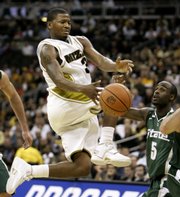 Columbia, Mo. — Missouri guard Stefhon Hannah, the team's leading scorer, remained hospitalized Monday with a broken jaw after a weekend brawl outside a downtown nightclub. The senior is expected to miss at least four to six weeks and could be out for the rest of the season.
Hannah was injured outside the Athena nightclub early Sunday morning, just hours after the Tigers returned from a 66-62 victory at Colorado. Hannah told police that he was struck on the head by an unknown object by at least one person whom he could not identify, according to a preliminary police report obtained by the Associated Press.
MU coach Mike Anderson said the team still hopes to have Hannah back before the end of the season, but he wasn't certain how long Hannah's recovery would take.
The Tigers' conference season concludes in early March.
"Right now it's indefinite," Anderson said. "You never know how long it will take to recover from an injury."
Hannah is the fifth Tiger player to be involved in off-court violence or misconduct since Anderson was hired less than two years ago.
Anderson said he didn't think the spate of off-court troubles was hurting the team's image.
"I don't consider it a problem," he said. "We're moving in the right direction."
Police said that 20 to 30 people were outside the nightclub when they arrived after the assault on Hannah but that none of the observers provided any details about the fight.
Hannah, 22, leads the Tigers (12-8, 2-3) in scoring with a 14.7-point average and in assists with 5.1 per game. A junior-college transfer, he also led Missouri in scoring and assists last year.
Missouri's next game is Wednesday at home against Nebraska (11-6, 0-4). Anderson said that sophomore Keon Lawrence, a former starter, likely would take Hannah's spot in the starting lineup.
Copyright 2017 The Lawrence Journal-World. All rights reserved. This material may not be published, broadcast, rewritten or redistributed. We strive to uphold our values for every story published.