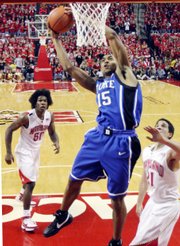 College Park, Md. — Facing its biggest deficit of the season in a hostile environment, No. 4 Duke showed its resilience in denying Maryland another upset.
DeMarcus Nelson scored 19 of his 27 points in the second half, Gerald Henderson added 23, and the Blue Devils rallied to beat the Terrapins, 93-84, Sunday night.
Duke (17-1, 5-0 ACC) had not trailed by more than six points in any game prior to falling behind 51-42 at halftime. But the Blue Devils fought back in front of a boisterous sellout crowd hopeful of seeing Maryland earn its sixth win in eight games against its hated rival.
James Gist scored 26 and Bambale Osby had 20 points and 15 rebounds, both career highs, for the Terrapins (12-8, 2-3).
Maryland was coming off an 82-80 win on the road against then-No. 1 North Carolina. That was eight days earlier, and unfortunately for the Terrapins, the momentum generated from that breakthrough victory could not be sustained.
Duke led by 2 before baskets by Henderson and Nelson ignited an 8-2 spurt that made it 83-75. A three-pointer by Gist got Maryland to 84-81, but Nelson made a driving layup for a 5-point cushion with 61 seconds to go.
The Terrapins would get no closer than 4 points.
Duke launched its comeback at the outset of the second half by making three straight baskets, two by Nelson. A three-point play by Nelson got the Blue Devils to 57-55, and minutes later a three-pointer by Kyle Singler put Duke up 64-63.
Greivis Vasquez answered with a layup and an off-balance baseline jumper, but Terps reserve David Neal missed a layup and the Blue Devils used a three-pointer by Greg Paulus and two foul shots by Nelson to move back in front.
The Terrapins would not lead again.
Despite forcing 13 turnovers and getting 16 points from Henderson, Duke trailed at halftime for the first time this season.
The crowd was in a frenzy at the outset, and a quick start by the Terrapins only raised the volume. Maryland made its first four field goal tries, including three straight layups by Osby, and a three-pointer by Vasquez made it 11-5.
The Terrapins opened 7-for-10 from the floor but had five turnovers in the opening seven minutes and fell behind for the first time when Henderson made two foul shots for an 18-16 advantage.
It was 29-25 before Landon Milbourne hit a three-pointer to spark a 10-0 run that put Maryland back in front. Gist had two dunks during the 90-second spree.
A technical foul on the Duke bench helped the Terrapins close the half with a 9-2 flurry.
No. 10 Michigan State 77, Michigan 62
East Lansing, Mich. - Drew Neitzel and Kalin Lucas each scored 18 points and No. 10 Michigan State beat Michigan to match its best 20-game record in school history.
The Spartans (18-2, 6-1 Big Ten) equaled the mark the 2000-01 team had at this point en route to their third straight trip to the Final Four and fourth Big Ten title in a row.
The Wolverines (5-15, 1-7) have their worst 20-game mark since 1981-82.
Florida 86, No. 14 Vanderbilt 64
Gainesville, Fla. - Walter Hodge scored a career-high 19 points, Nick Calathes added 15 points, 10 assists and seven rebounds, and Florida used a huge first-half run to beat Vandy.
The Gators put together a 20-0 spurt that helped them build a 34-6 lead, then cruised to their 13th victory in 15 games against the Commodores, including seven straight in Gainesville.
No. 23 Xavier 77, Massachusetts 65
Amherst, Mass. - Drew Lavender scored 19 points to lead four players in double figures, and the Musketeers knocked off UMass to move atop the Atlantic 10.
Derrick Brown added 14 points for Xavier (17-4 overall, 5-1), which won for the ninth time in 10 games.
Copyright 2018 The Lawrence Journal-World. All rights reserved. This material may not be published, broadcast, rewritten or redistributed. We strive to uphold our values for every story published.