Photo Gallery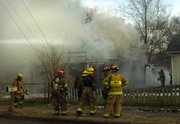 Vacant house fire
Firefighters responded to a two-alarm fire Sunday in east Lawrence.
Flames shot out of the roof and windows of the one-story home at 1207 E. 13th St., which neighbors said had been vacant for several years.
Fire Chief Mark Bradford said no injuries were reported, but firefighters had to retreat from the interior of the house after flames became too harsh.
Cash Wyatt, who lives next door to the home, said the structure was being remodeled after it was sold at auction following the death of the previous owner several years ago. He speculated the blaze may have resulted from an electrical source.
"They just turned the electricity on in the last couple of weeks," he said. He said construction crews left the premises about 3 p.m., roughly an hour and a half before Lawrence-Douglas County Fire & Medical received multiple 911 calls about the fire.
Bradford said 14 firefighters were initially dispatched to the scene, and reserve firefighters were being called to respond to other emergencies.
The fire was under control by 7 p.m., Bradford said.
The fire's cause is under investigation, and a damage estimate had yet to be determined by Sunday night.
Copyright 2018 The Lawrence Journal-World. All rights reserved. This material may not be published, broadcast, rewritten or redistributed. We strive to uphold our values for every story published.