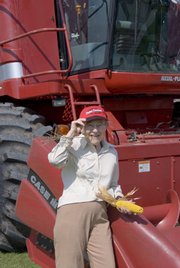 Des Moines, Iowa — Mildred Armstrong Kalish's memoir is not about the author. It's about a way of life that is long gone.
"If you'll look at this book, you'll notice that I very deliberately kept myself as much out of it as possible," the 85-year-old said about her first book.
"Little Heathens: Hard Times and High Spirits on an Iowa Farm During the Great Depression" chronicles Kalish's family's life during the 1930s in tiny Garrison, Iowa. In her evocative but not overly sentimental book, she describes her role in the collective rural life of her childhood.
She briefly describes her family - an absent father, strict grandparents, spirited aunts, mischievous siblings and a complicated mother. Yet it's their chores, recipes, old sayings, pranks and virtues that dominate the book.
"I wanted to capture that as a place, as a people - the farm, responsibilities, our relationships to the land and to the animals and that adventure of a small town and rural life," Kalish said.
It was a time when kids expertly beheaded a chicken for supper and started Thanksgiving dessert in May with the planting of pumpkin seeds. There were stinky outhouses and wise observations from grandmother: "If you're looking for a helping hand, look at the end of your arm."
Kalish wouldn't want to return to those times, but she wants to pass down lessons she learned as a child.
"I wanted especially, you know, that the kids understood the old virtues, which I think need to be reinstated. And those virtues are self-reliance and self-discipline and thrift. I think we have an unbelievably wasteful generation now. We never wasted one little thing and we don't have that anymore," she says. "Along with this practice of self-discipline and self-reliance came a feeling of confidence. I never felt that anything could lick me."
As a teenager, Kalish earned $4 a week as hired help on a nearby farm. That gave her money to finally buy a few luxuries.
"Buying a 10-cent lipstick and box of 12 sanitary napkins was a really, really satisfying object," she says.
She left Iowa for good around 1952, then spent decades teaching literature and writing at Suffolk County Community College on Long Island in New York; the University of Missouri; and Adelphi University in Garden City, N.Y. A couple of years ago, she and her husband settled south of San Francisco, in Cupertino near one of her two sons.
Kalish first thought of writing about her childhood in the early 1990s, when her young granddaughter repeatedly asked for "a farm story."
"I began to think I should collect these stories and write them down," says Kalish, who spent about five years writing the book off and on, finally completing her manuscript in 2005. She did most of her writing on a computer but compiled some of her stories by hand.
"I always carried a notebook," she says. "I did write some of it in longhand, whenever I had a spare moment and when I would be talking to friends I would think of something like a recipe or how we did things or some saying that was unique, and I would jot those down just anywhere we happened to be."
Although she taught writing for decades, Kalish struggled to refine her own prose.
"I worked very hard on the style," she says. "There's one paragraph in there that I spent a full five days on, trying to get it so that it was plain and understood."
'Quite a character'
Kalish has traveled widely to promote her book, including trips to Minnesota, Florida, Iowa and California. She's usually accompanied by a relative, because she has macular degeneration that affects her vision.
"It does get tiring. I know people who are much, much younger than I who refuse to travel anymore," she relates.
Kalish visited Prairie Lights Books in Iowa City in September, and store manager Jan Weissmiller said a couple hundred people showed up.
"She's quite a character," Weissmiller said. "She's really lively and she's kind of irreverent. She's just really wonderful."
Weissmiller said she's sold more than 600 copies of the book in the last six months - a remarkable feat for a store her size.
"It's folksy in the way you think of people being raised in that era, but it's both better expressed and more thoughtful than the average memoir of the Depression," Weissmiller said.
That kind of interest keeps Kalish going.
"Almost every day I have somebody come up to me or send me an e-mail saying, 'You wrote my story,"' she says. "It's mind-boggling, it's overwhelming. I had one woman (who) wrote and said that she's only read two books twice in her whole lifetime and the other one was the Bible. Can you believe that?"
Critics have been supportive as well. "Little Heathens" - what her grandmother called the children - was named to The New York Times' "10 Best Books of 2007." It's gotten positive reviews from Publishers Weekly, The Christian Science Monitor and the American Library Association's Booklist, among others.
Never too late
The popularity of Kalish's book could also speak to readers' longing for a less complex, more coherent time. Joseph Hurka, a writing professor at Tufts University and Emerson College in Boston, said people are turning to other periods for direction.
"In a time of terror, there's a yearning to move back to some simplicity, something certain," he said.
Hurka, a graduate of the University of Iowa Writers' Workshop who has written a book on his father, said Kalish's book may remind people of lost values and a time when children and parents weren't alienated from one another. Some may be drawn to the book for its authenticity.
"Anything that tells a story that's truthful and honest kind of brings us back to our identity," he said. And her catalog of tedious details and mundane tasks actually appeals to readers. "I think people are especially drawn to the minutiae, to the smaller things, because those are things that make the stories real."
Kalish says her success shows it's never too late to record one's narrative.
"I'd say do it, write it down. Join an expository writing group if that helps you. But do it, write these things down," she says.
Copyright 2017 The Associated Press. All rights reserved. This material may not be published, broadcast, rewritten or redistributed. We strive to uphold our values for every story published.