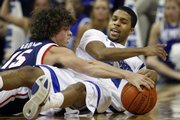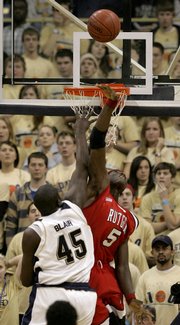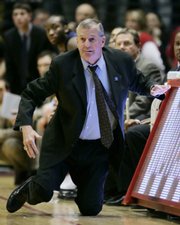 Memphis, Tenn. — John Calipari knew his Memphis Tigers would need a little jolt right about now. That's why he wanted to play Gonzaga at this point of the season. He got what he hoped for from the Bulldogs.
And his top-ranked Tigers still won.
Chris Douglas-Roberts scored 21 points, and Derrick Rose added 19 as Memphis remained undefeated with an 81-73 victory Saturday.
"You can't make mistakes on a team like Gonzaga," Douglas-Roberts said. "Gonzaga will capitalize on every mistake. That's why we needed a game like this. A lot of teams we've been playing aren't capitalizing on our mistakes, so we didn't know what to do and what not to do."
This was the first time in school history the Tigers got to play on their own court as the top-ranked team, and they trailed for only a little more than a minute late in the first half before a sold-out crowd.
"You almost have to be perfect in here, and that's a little hard to pull off," Gonzaga coach Mark Few said.
Jeremy Pargo led Gonzaga with 25 points while Josh Heytvelt added 13 and Micah Downs 11. Matt Bouldin was held to six points, well below his team-leading average of 14.7 per game.
No. 3 Tennessee 85, Georgia 69
Knoxville, Tenn. - Chris Lofton hit seven three-pointers and scored a season-high 27 points for Tennessee.
It was the seventh straight win for the Volunteers (17-2, 4-1 Southeastern Conference) over the Bulldogs (11-6, 2-2), who were playing their first SEC road game and first Top 25 opponent.
No. 6 Washington St. 56, No. 24 Arizona St. 55
Tempe, Ariz. - Derrick Low scored 18 points, all on three-pointers, and Washington State rallied from an 11-point deficit.
The Cougars survived the upset bid when Arizona State's star freshman James Harden missed on a drive to the basket at the buzzer. Harden finished with 25 points, his 10th 20-point game.
Connecticut 68, No. 7 Indiana 63
Bloomington, Ind. - Fill-in starter Craig Austrie had 15 points, and the Huskies dominated the middle in snapping the Hoosiers' 13-game winning streak and their 29-game home winning streak.
UConn was without starting guard Jerome Dyson and backup Doug Wiggins, who were suspended Friday for violating team rules. So the Huskies relied on power, outscoring the Hoosiers 34-16 in the paint and grabbing a 44-28 rebounding edge.
No. 8 UCLA 85, Oregon State 62
Portland, Ore. - Darren Collison had a career-high 33 points, and UCLA easily handed Oregon State its 10th straight loss.
Kevin Love, an Oregon native who drew some criticism for leaving his home state in favor of the Bruins, had 21 rebounds, besting his own record for a UCLA freshman.
No. 9 Georgetown 58, West Virginia 57
Morgantown, W.Va. - Jessie Sapp hit a three-pointer with six seconds left, and Patrick Ewing Jr. blocked Da'Sean Butler's layup attempt at the buzzer for Georgetown.
The Hoyas (16-2, 6-1 Big East) overcame a 10-point deficit early in the second half and held the Mountaineers without a field goal over an eight-minute span to win their third straight.
Sapp finished with 15 points and Roy Hibbert added 12 points and 10 rebounds for the Hoyas.
Purdue 60, No. 11 Wisconsin 56
West Lafayette, Ind. - E'Twaun Moore scored 16 points, and Purdue snapped the Badgers' 10-game winning streak.
Robbie Hummel added 10 points, seven rebounds and a game-winning block for Purdue (15-5, 6-1 Big Ten), which has won five straight.
Brian Butch had 20 points and 13 rebounds for the Badgers (16-3, 6-1).
Rutgers 77, No. 13 Pittsburgh 64
Pittsburgh - Corey Chandler scored 18 points, and Mike Coburn added 17 to lead Rutgers to its second consecutive upset of a Top 25 team.
Chandler and Coburn led a game-altering 20-2 run in the second half as Rutgers (10-11, 2-6 Big East) handed Pitt (16-4, 4-3) its biggest upset loss in conference play in Jamie Dixon's five seasons as coach.
Pitt, which was 11-0 at home this season and had won its last 13 there, had beaten Rutgers eight straight times overall, and the Scarlet Knights were 0-7 in Pittsburgh since 1996.
Rutgers followed up its 80-68 victory over No. 18 Villanova on Wednesday night.
No. 15 Butler 73, Ill.-Chicago 57
Indianapolis - Matt Howard scored 20 points, and A.J. Graves added 16 for Butler.
It was the 12th straight game of double-figure scoring for Howard, a 6-foot-8 freshman, while Graves had his most points in more than a month.
Josh Mayo, the nation's leader in three-point percentage, finished with 19 points for the Flames.
Richmond 80, No. 16 Dayton 63
Richmond, Va. - Dan Geriot and David Gonzalvez combined for 25 points in Richmond's sizzling first half, and the Spiders went to hand Dayton its third straight loss.
Richmond defeated a ranked team at home for the first time since Dec. 1, 1990, when it beat Georgia Tech, and got its first victory against a ranked team since Jan. 24, 2004, when Tony Dobbins' jumper gave them a 69-68 win at No. 12 Kansas.
Mississippi St. 88, No. 17 Mississippi 68
Starkville, Miss. - Charles Rhodes scored 26 points, and Jamont Gordon had 13 for Mississippi State.
The Bulldogs (14-5, 5-0 Southeastern Conference) extended their winning streak to nine games overall and five straight in the SEC.
Ole Miss (15-3, 2-3) has gone 2-3 in conference play after starting 13-0.
Notre Dame 90, No. 18 Villanova 80
Philadelphia - Kyle McAlarney scored 30 points, and Luke Harangody had 25 points and 10 rebounds to lead Notre Dame to its first conference road victory of the season.
Rob Kurz added 12 points for the Irish (14-4, 4-2 Big East) who hit nine three-pointers and shot 51 percent from the field.
No. 20 Stanford 82, California 77
Berkeley, Calif. - Brook Lopez had 23 points and four rebounds, all in the second half after sitting 15 minutes of the first in foul trouble, and Stanford won its third straight.
No. 21 Marquette 79, DePaul 71
Milwaukee - Dominic James scored 19 points, and Jerel McNeal added 15 to help the Golden Eagles improve to 11-0 at home.
No. 22 Drake 58, Northern Iowa 54
Des Moines, Iowa - Klayton Korver scored 23 points on 7-of-8 shooting from 3-point range, and Drake extended its school-record winning streak to 17 games.
The Bulldogs are 9-0 in the Missouri Valley Conference for the first time since the 1969-70 season. Drake's current winning streak is the third-best in the nation, behind No. 1 Memphis (19-0) and No. 2 Kansas (20-0).
Copyright 2018 The Associated Press. All rights reserved. This material may not be published, broadcast, rewritten or redistributed. We strive to uphold our values for every story published.