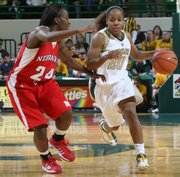 Waco, Texas — Angela Tisdale stood in the backcourt letting the clock wind down a bit. When the time was right, Baylor's smallest player and lone senior blew by a defender and drove all the way through the lane for a layup.
Tisdale scored 15 of her 17 points before halftime when the sixth-ranked Lady Bears erased an early 10-point deficit against Nebraska on Saturday night. They went on to a 76-56 victory, their 11th straight.
"She is going in with a purpose, she is making wonderful decisions," coach Kim Mulkey said. "She does those kinds of things, she makes her teammates better."
That basket by Tisdale just before halftime gave the Lady Bears a 43-31 lead. And they kept rolling after that, going ahead by as many as 22 points.
Nebraska was coming off a double-digit home victory over No. 21 Texas A&M;, but couldn't duplicate that success on the road, even after jumping out to a 16-6 lead in the first four minutes.
The Lady Bears, however, are accustomed to being ranked and had no problems with Nebraska after their slow start.
Texas 67, Missouri 37
Austin, Texas - Ashley Lindsey led Texas' dominating performance inside with 14 points, two blocks and four steals.
Texas held Missouri's three frontcourt starters to 21 points on 9-of-27 shooting, and the Longhorns outrebounded the Tigers 41-30. Kathleen Nash came off the bench to lead Texas with seven rebounds.
Alyssa Hollins led Missouri with 12 points but was just 5-of-15 from the field as the Tigers shot 33 percent.
Texas scored 28 points off Missouri's 23 turnovers.
Texas Tech 62, Colorado 44
Lubbock, Texas - Dominic Seals had 21 points and nine rebounds to lead Texas Tech.
The Red Raiders scored the first 12 points of the second half to extend a nine-point lead to 47-26 with 11:30 remaining.
The Buffaloes went scoreless for the first nine minutes of the second half, missing their first 10 shots.
It was Colorado's worst offensive game of the season, with season lows for points and shooting percentage (24.1). Colorado made just four of 24 field goals in the second half.
Colorado has lost 12 straight road games against Big 12 teams from Texas and Oklahoma.
Copyright 2018 The Associated Press. All rights reserved. This material may not be published, broadcast, rewritten or redistributed. We strive to uphold our values for every story published.