Photo Gallery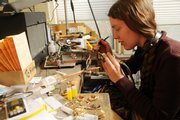 Disposable society
On the street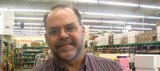 I've taken my lawn mower in, and I've had a repairman come out to look at my washer and dryer and my stove before. With most electronics, though, I would probably buy a new one if I couldn't fix it myself.
Bruce Barlow is one of a kind.
Truly.
BKB Leather, his North Lawrence shoe repair shop, used to have a handful of locally owned competitors around town. But now he's the sole shoe repairman in the phone book.
"I'm the only one in Lawrence who does this," he says. "When there were a bunch of us, there used to be seven of us. Each of us have our own personality and had our own loyal following."
Not now.
These days, it seems rather than "fix it and forget it," it's more "break it and pitch it." Locally owned repair shops often find themselves going against the grain in a society in which disposable is the norm.
Barlow guesses there are 6,500 to 7,000 cobblers in the United States, down from 70,000 a few decades ago.
"Some of us thrive," he says, "and some of us barely make it."
It's easy to see why. Cheap prices and zero wait time make it simple to go the route of replace rather than repair.
Microwave blitz out? Buy a new one for less than $100.
Heel break off your pumps? Time for a new pair.
Watch stop ticking? Slap one fresh out of the box and onto your wrist.
According to the Environmental Protection Agency, U.S. residents and businesses threw away more than 251 million tons of municipal solid waste - trash - in 2006. That's about 4.6 pounds per person per day.
That 4.6 pounds per day adds up quickly when you consider the number of wrappers, boxes and bags each of us goes through daily just eating, let alone cleaning out our closets or getting fed up with an ineffective dishwasher.
Though, according to the EPA, Americans are recycling nearly 34 percent of our municipal solid waste, people just have to look back a few generations to realize there's huge room for improvement.
Indeed, in 1960 Americans threw away 88 million tons of trash, according to EPA figures - 2.7 pounds per person, nearly 2 pounds less per day than 2006, even though Americans then formally recycled just 6.4 percent of their waste.
"We are a throwaway society, and I think it's important that we teach our kids how to reduce, reuse and recycle," says Carrie Mandigo, Lawrence, one of Bruce Barlow's repeat customers and a recycling enthusiast. "I mean, it's kind of ridiculous how disposable our society is."
Service with a smile
Brad Parsons is co-owner of Marks Jewelers, 817 Mass. The jewelry store has been in business since 1880 and offers repairs among its services. Parsons says that although it's not a huge part of the business' annual take, the repair side is one of the most important.
He says repair jobs aren't a real moneymaker, "but it's a part of the business that creates relationships."
Marks employs five full-time technicians in its upstairs repair shop, where they work on everything from dainty rings to 8-foot-tall grandfather clocks. At 10 a.m. on a recent weekday, every corner of the shop had someone hard at work resetting stones, bringing life to dormant clocks and saving heirloom jewelry.
"We work on things that are monetarily nonjustifiable - the repair is worth more than the piece - but if it's sentimentally valuable, I mean if it's great-grandfather's wedding ring ... sentiment can be a justification," Parsons says.
But sometimes, Parsons says, it's the everyday things that mean the most.
"Somebody can't get new (eyeglass) frames for two weeks, well, that's an unacceptable answer, so we are happy to drop what we're doing, and that's the beauty of in-house repair," he says.
On time and experienced
Mack Price, president and owner of Price's Appliance Repair, has been working on appliances since 1972 and guesses he works on 80 to 100 appliances per week. That's a lot of microwaves, dishwashers and dryers.
But he says it's not his experience that counts most - it's his timing.
"I have a very good, loyal base of customers, but that sometimes is all relative on how fast you can get there, too," Price says, adding he is able to give his customers a much narrower time slot than the bigger guys. Meaning you won't be told someone from Price will be there Thursday; you'll be given a two-hour window on Thursday. This keeps you from waiting all day to hear the company van pull up in the driveway.
And though most folks aren't as inclined to dispose of appliances as other items, Price says his line of work isn't immune to the kick-it-to-the-curb mentality.
"The disposable products are inexpensive as well, and so it has its own turn of events, you know," he says. "They'll go out and buy a cheap dishwasher and it breaks down in three of four years, and instead of paying somebody to repair it, they'll just buy a new, cheap dishwasher."
But, in Price's experience, the Lawrence customer is, for the most part, a different creature.
"The consumer in Lawrence is not only a smart consumer in that they want to protect the environment," he says, "but they also want to support local businesses because they realize they can get better service locally than they can on a national level."
'If it fits, fix 'em'
BKB Leather is like walking back in time - machines from the 1930s jockey for space with boots, cans and dozens of tools lined up on shop-grade lazy Susans on the center island and along the walls. The price list is scribbled on a chalkboard. Guitars and banjos - one painted with Jesus' face - hang about the store. The shop dog, Isadora Duncan, holds court near a 1920s wood-burning stove as lively folk music blares.
Barlow started working with leather 22 years ago after being injured on a construction job. He went to the library looking for a possible profession and came out with a book on leather. Soon after, he began BKB in his laundry room before working up to a full leather shop. And he's not picky about what he'll fix.
"A fine pair of shoes is often $100 or more. Of course you can buy a $15 or $20 pair of shoes, no problem, at Payless, and in fact we do work on $15 and $20 shoes frequently. 'If it fits, fix 'em,' that's our motto," he says. "We can often repair a shoe better than new, frequently for half to a third of the price of a new one. Plus you don't have the break-in time to get it to fit right."
Barlow's business comes from word of mouth. His only formal advertising is just a few lines in the phone book. And though the items he works on can be disposable - goodbye $15 loafers - he says that really it's his customers' loves that keep them coming back.
"I mean, think of it as, 'What are your favorite items in your life?' Your shoes and your purse and your jacket. We work on all those things - put in new zippers and recondition," he says. "I do leather upholstery, all things leather. I also have a saddle business.
"It's pretty thriving, as far as I'm concerned."
Copyright 2018 The Lawrence Journal-World. All rights reserved. This material may not be published, broadcast, rewritten or redistributed. We strive to uphold our values for every story published.