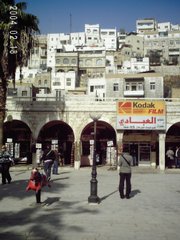 One day last fall, Lawrence attorney Kathy Kirk listened to a contract mediation case involving a dispute over delivery services. It was like many she'd heard before.
But this time, she was hearing it in Amman, Jordan.
Kirk returned earlier this month from a three-month stay in Jordan, where she trained judges, lawyers and other professionals in civil mediation. She helped Jordanians amend laws to accommodate judges so they could order mediation, and she helped establish rules and regulations for the process.
Mediation and what is known as "alternative dispute resolution," or ADR, is relatively new in Jordan. Not all attorneys accept it, Kirk said.
"The Jordan bar is still a little resistant, but it didn't feel much different to me than the Kansas Bar Association was in the early 1990s," she said during a recent interview.
It was then that Kirk and one of her former law professors from Washburn, Arthur Chaykin, got the Kansas bar to establish a 40-hour civil mediation course that they taught for 10 years. Law schools have classes on ADR now.
"It's something a lot of lawyers embrace once they understand it," Kirk said. "A lot of lawyers have taken that and in general have become more settlement-oriented."
Talking out of court
ADR is a process used to resolve civil disputes without or in addition to litigation. Usually it involves a trained third party who mediates a resolution between two sides of attorneys and clients. There are other forms, such as arbitration. If it fails, the case still goes to a judge to decide.
Resolving legal disputes out of court is a process that has been around for years.
"In Douglas County, I've talked to a lot of attorneys from the '40s and '50s who resolved an awful lot of cases while having coffee," Kirk said.
It was in the 1980s, however, that interest in ADR mushroomed nationwide because of the growing caseloads that courts were dealing with.
Kirk, a Hutchinson native and former teacher who earned a law degree from Washburn in 1993, became interested in ADR when she started law school.
"I thought that was what fits my personality and what I like to do," she said.
Going to Jordan
Kirk traveled to Jordan to teach dispute resolution through the American Bar Association's Rule of Law Initiative, a public service project that helps foreign countries expand their legal systems.
"I hadn't had much time to do volunteer work, and I thought this would satisfy a huge part of me that likes to do meaningful volunteer work," Kirk said.
Jordan is next door to Iraq, but Kirk noted that the country is Western-oriented and that most people speak some English. She had no concerns.
"I felt very comfortable as soon as I arrived," she said.
The ABA provided an apartment for Kirk in Amman, the nation's capital, and an office with a staff set up in advance. Amman has five courthouses, and Kirk helped set up mediation departments in four of them. The fifth already had a pilot mediation project.
Kirk found most legal professionals, like their American counterparts, caught on to mediation. The country has a historical tradition of tribal dispute resolution, she said.
"It makes sense to them culturally, religiously and just practically," Kirk said.
Separating politics, people
Kirk said she found Jordanians to be very friendly to Americans. Her two grown daughters visited her for Christmas, and a Muslim judge invited them to his house so he could host a Christmas dinner for them.
"They don't care for American politics and they don't care for what is going on in the Middle East right now, but that doesn't seem to reflect on the people at all," Kirk said. "They were just wonderful."
Kirk, who works at the Jerry K. Levy law firm in Lawrence, said the Jordan experience was like "a shot in the arm" that came at the right time in her career.
Levy agreed.
"She probably knows more about mediation than any attorney in Kansas," Levy said. "To get a chance for three months to write the rules of mediation for an entire country, it was an opportunity she couldn't forego."
Copyright 2017 The Lawrence Journal-World. All rights reserved. This material may not be published, broadcast, rewritten or redistributed. We strive to uphold our values for every story published.