Photo Gallery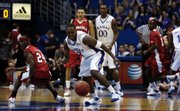 KU vs. Nebraska
Manhattan — The day of basketball entertainment started in Allen Fieldhouse and finished inside Bramlage Coliseum.
The focus for Nebraska, as usual, was to get the ball inside to its best player, Aleks Maric. Kansas didn't let that happen.
Every time he tried to get where he was going, a big body from Kansas greeted him with an open palm or a forearm or a well directed hip. Not enough contact to merit a whistle, just enough to make his long day longer. Maric managed to put up just six shots from the field and was scoreless in 20 minutes. On those rare occasions he was unwise enough to put the ball on the floor, Russell Robinson, Mario Chalmers or Sherron Collins would make him regret it.
After watching Kansas go through the motions in the second half of an 84-49 blitz of Nebraska and taking in what the participants had to say afterward, it was time to move on down the road to what for a stretch of time had been known as a football school. Not anymore.
Kansas State has sold out Bramlage for the season. Nobody wants to miss a minute of Michael Beasley's one-year college experience, and it's easy to see why. The current football coach, Ron Prince, sat on one side of the court, the living legend, Bill Snyder, on the other side.
Built like and bangs like a power forward, moves, handles the ball and like and shoots like a guard, Beasley is the best player in college basketball. His next game, Wednesday at Bramlage, is against rival Kansas, the best team (in every sense of the word) in college basketball.
In between stuffing his purple mouthpiece into his mouth and pulling it back out, Beasley totaled 33 points and 15 rebounds. He posted up, caught everything thrown his way, banked it in. He faced the basket and drove hard to the glass. He swished three-pointers. He put back teammates' misses. Once, as K-State's Andre Gilbert was falling backward after getting an offensive rebound, Beasley had the presence of mind to rip the ball right out of his hands and put it off the glass for another bucket.
Watching KU in the afternoon, the thought occurred how much bigger a task than shutting down Maric faces the Jayhawks on Wednesday.
Beasley isn't as easily derailed from his intended destination. He'll establish far better position, demand the ball more aggressively. He'll get his share of shots.
Watching Beasley get whatever he wanted against Iowa State and making it look so easy, the thought occurred how much greater his challenge will be against a KU front line that has so much more depth and experience, strength and quickness, than the rebuilding Cyclones.
The irresistible force that is 20-0 KU meets the immovable object that is Beasley in what easily will be the most eagerly awaited game of either team's season thus far.
Kansas has won 34 of its last 35 basketball games. Kansas State has Beasley, the best amateur basketball player on the planet, the impending No. 1 selection in the NBA Draft.
Beasley has guaranteed a victory. KU's Sherron Collins laughed and said he seemed to remember Bob Huggins, another K-State one-year wonder, doing the same a year ago.
Such talk is entertaining, but it can't compare to watching both sides in action.
Copyright 2018 The Lawrence Journal-World. All rights reserved. This material may not be published, broadcast, rewritten or redistributed. We strive to uphold our values for every story published.