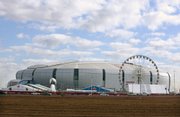 Glendale, Ariz. — As the architect of the critically acclaimed University of Phoenix Stadium, Peter Eisenman knew he would have no trouble finding Super Bowl tickets.
He just had no idea he'd be watching his favorite team play for the NFL title in the retractable-roofed stadium he designed.
Eisenman, a native New Jerseyan, has been a New York Giants season-ticket holder since 1957.
"Sure, I could go see the Patriots play the Packers, but this makes it really different," Eisenman said in a telephone interview from his Manhattan office. "To go to see the 'G-men' play, you have to understand bringing the stars together on that one. As a football fan, as a 50-year season-ticket holder, I thought, 'This is karma.'"
No matter how the game turns out, Eisenman probably will go home happy. His creation in the farmland west of Phoenix is expected to be among the biggest stars of Super Bowl week.
The $455-million home of the Arizona Cardinals and the Fiesta Bowl opened two years ago to widespread praise. In February 2006, BusinessWeek named it one of the world's 10 most impressive sports structures. It was the only one in North America.
Eisenman wanted football fans to rave as well. At heart, he's one of them.
"I had a lot of love for that project," he said. "My soul was in it. I am a fan, and I wanted it to be a place that a fan would love to see a game."
The stadium's sleek look has become the subject of debate and amusement among local residents. Some liken it to a barrel cactus. Others see a spaceship, especially when the structure is lit at night. A few say it resembles nothing more than a coiled snake basking in the desert sun.
"It's this sort of gleaming container sitting in the cotton fields out there," said John Meunier, an Arizona State University architecture professor who advised the Cardinals on the project. "It's an egglike enclosure. It feels like it's enclosing something that's rather special."
That's not the case on many autumn Sundays, when the ho-hum Cardinals play there. But the stadium has played host to a Bowl Championship Series title game - Florida 41, Ohio State 14 in January 2007 - and two Fiesta Bowls, including Boise State's unforgettable overtime victory over Oklahoma last January.
The building also will be the site of an NCAA men's basketball regional in 2009, and there are plans to lure a Final Four.
One thing is certain: the 206-foot-high stadium is a singular structure in the rapidly changing Phoenix metropolitan landscape. On clearer days, it is visible from the top of Camelback Mountain, a 2,700-foot peak some 20 miles to the east.
Eisenman worked with stadium builders HOK Sport and Hunt Construction Group to create the 63,400-seat stadium, which will have its seating expanded to about 75,000 for the Super Bowl.
Many of those attending the Super Bowl will visit the stadium for the first time. They're in for a surprise.
"Anyone who asks, I said, 'We're not in Kansas anymore, Toto,'" Cardinals owner Bill Bidwill said on the day the stadium opened in August 2006.
Many domed stadiums resemble aircraft hangars. Eisenman created a sense of airiness in his stadium, with a translucent roof and a series of vertical glass panels that allow the desert light to filter into the 1.7-million square-foot structure.
Copyright 2018 The Associated Press. All rights reserved. This material may not be published, broadcast, rewritten or redistributed. We strive to uphold our values for every story published.