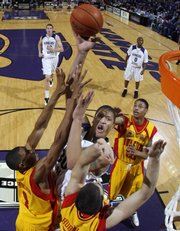 Manhattan — Now Kansas State can focus on Kansas University.
After an 82-57 dismantling of Iowa State on Saturday, Kansas State freshman Bill Walker admitted it was a relief to finally be able to concentrate on the No. 2 Jayhawks.
Walker insisted all week that he and the other players were not overlooking Colorado and Iowa State in anticipation of Kansas' visit on Wednesday, and the Wildcats' convincing performance against the Cyclones was more than enough to prove him right.
"I told you guys all week we had to beat Iowa State before we can play Kansas," Walker said. "You hear about (the Kansas game) all offseason, and now it's finally here."
Michael Beasley had 33 points and 15 rebounds to lead Kansas State past the Cyclones.
Beasley - the super freshman who ranks fourth nationally in scoring and first in rebounding - topped 30 points for the seventh time this season, tying him with Bob Boozer and Norris Coleman for the most 30-point games in a single season in school history.
Jacob Pullen added 13 points, Walker had 10 points and nine rebounds, and Darren Kent came off the bench to score 11 for the Wildcats (14-4, 4-0 Big 12).
The Wildcats' victory sets the stage for the arrival of the Jayhawks, who beat Nebraska earlier in the day to move to 20-0 overall and 5-0 in the Big 12.
"What's that mean?" Beasley said, speaking of Kansas' perfect record through 20 games. "We got a good shot to beat anybody. I think if we come to play every game we can beat anybody in the nation - 20-0, a million and 0, it doesn't really matter to me."
Kansas State hasn't beaten Kansas in Manhattan since 1983, and the Wildcats are 0-19 against the Jayhawks in Bramlage Coliseum.
And after Baylor's loss to Oklahoma on Saturday, Kansas State and Kansas are now the only two remaining unbeaten teams in Big 12 play.
Copyright 2018 The Associated Press. All rights reserved. This material may not be published, broadcast, rewritten or redistributed. We strive to uphold our values for every story published.