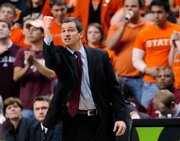 Stillwater, Okla. — Any victory would do for No. 18 Texas A&M; just a few days after losing the game that wouldn't end.
Dominique Kirk hit the go-ahead free throws with 44 seconds left, and the Aggies snapped their three-game losing streak by beating Oklahoma State, 59-56, in a game that was anything but pretty.
"We kind of snuck in the back door on this one, but you'll take it any way you can get it," A&M; coach Mark Turgeon said.
Three days after absorbing a 116-110 loss to No. 25 Baylor in five overtimes, it was the Aggies (16-4, 2-3 Big 12) who were able to make more plays down the stretch on both ends of the court. They held Oklahoma State (10-9, 1-4) scoreless after James Anderson's free throw with 2:52 to play made it 56-53, and were able to eke out just enough points to get by.
"We went out there and we made big plays," Kirk said.
After Kirk put the Aggies up 57-56, the Cowboys squandered their first chance to move ahead when forward Ibrahima Thomas - a 64 percent free throw shooter - came up empty on two foul shots with 20 seconds left.
Texas A&M;'s Donald Sloan, who was fouled after grabbing the rebound, missed the front end of a 1-and-1 before Anderson, Oklahoma State's leading scorer, missed a three-pointer that could have put the Cowboys on top.
Coach Sean Sutton said he had told Anderson to drive the ball, either toward the lane or around the baseline depending on the Aggies' defense, but the freshman - who was 4-for-5 from three-point range to that point - instead went for the long ball.
Copyright 2017 The Associated Press. All rights reserved. This material may not be published, broadcast, rewritten or redistributed. We strive to uphold our values for every story published.