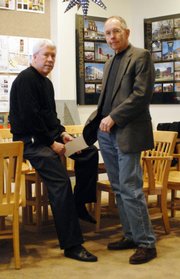 Treanor Architects is doing more than expanding its standing as Lawrence's largest design firm.
It's also expanding its reach.
Treanor, 110 McDonald Drive, this month acquired GLPM Architects, another Lawrence-based firm. Financial terms were not disclosed.
The acquisition gives Treanor - which already has offices in Topeka, St. Louis and Kansas City, Mo. - another 24 architects, designers and office personnel, leaving the combined firm with 93 professionals ready to tackle any project, no matter how large.
Or where it might be.
"It allows us to get in front of a lot of people," said Mike Treanor, principal, who noted that the firm had been attracting interest on projects in South Korea, elsewhere in southeast Asia and in Kazakhstan. "It allows us to stand up in front of people and say, 'We have this experience, and this is all these people do, in our firm.'
"And that's a powerful statement."
Part of that statement: The GLPM acquisition now gives the firm a new design specialty - life sciences and research laboratories - to go along with existing divisions that focus on projects involving student life (greek houses, residence halls and others), justice (jails and courthouses) and historic preservation (such as renovation of the Kansas Statehouse in Topeka).
David Livingood, a GLPM principal, will serve as Treanor's director of operations, freeing up Dale Glenn, GLPM's other principal, to focus on designing and managing projects in the world's growing bioscience and academic-research markets.
"The work is out there," said Glenn, whose experience includes the Kansas Life Sciences Innovation Center at the Kansas University Medical Center in Kansas City, Kan. "Now, with the combined forces that we have : the size of the project becomes a little less problematic."
The combination also will trigger some twists in Lawrence's real-estate market:
¢ Treanor Architects already has leased space in Scotch Plaza, at 1501 W. Sixth St. - the former home of Movie Gallery - to serve as temporary accommodations for GLPM employees and a handful of Treanor personnel. Renovations are ongoing.
¢ The GLPM operation - now known as Treanor's "New Hampshire" group - will relocate from 1001 N.H. at the end of February. Glenn said that the former GLPM space would be occupied by GPW & Associates, now at 10 E. Ninth St.
¢ All of Treanor's personnel in Lawrence will relocate next year to a new home: 1040 Vt., the former home of Strong's Office Systems, onetime home to Wild Oats and early home to Dale Willey Automotive.
The office on Vermont Street will be renovated to include a number of energy-efficient features, Glenn said.
"I think we're going to do something that's really dynamite for downtown, and for us," he said.
Firm ownership
Partners in Lawrence-based Treanor Architects, which acquired GLPM Architects this month: Mike Treanor, Nadia Zhiri, Daniel Rowe, Steven Malin, Vance Kelley, Andrew Pitts, Sharon Schmitz, Joseph Stramberg and, from GLPM, Dale Glenn and David Livingood.
Copyright 2018 The Lawrence Journal-World. All rights reserved. This material may not be published, broadcast, rewritten or redistributed. We strive to uphold our values for every story published.