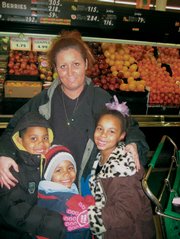 -->
Krissy Yeadon didn't have party planning on her mind.
Yeadon pushed an empty grocery cart through the produce section of Checkers Food Store as her three kids - 7-year-old twins and a 5-year-old boy - took turns hanging from the cart and hanging from their momma's legs. Shouts of "Banana! Strawberries!" and whatever other produce item the cart passed, competed with the sounds of a slow, downbeat Patsy Cline song that played over the store's intercom.
So when Yeadon, a single mother, was told Thursday that the federal government was close to approving an economic stimulus package that might net her a special tax rebate check of several hundred dollars, she was plenty pleased. But she wasn't having dreams of a new high-definition television or an extra special vacation.
"We'll probably use it to pay off some bills, and it would be nice if we could put some toward savings," Yeadon said.
Count that as half a victory for Washington, D.C., lawmakers. Democratic and Republican congressional leaders reached tentative agreement on a nearly $150 billion economic stimulus package Thursday. Leaders have made no secret that they're hoping Americans take the newfound money and immediately put it back into the economy by buying stuff. Yeadon's plan of paying off some bills probably will please lawmakers. Putting some away for savings may not.
Yeadon's mood was pretty typical of other Lawrence residents who were out and about Thursday.
"I don't think it will do much to help the economy," said Raven Naramore, who was at the Lawrence Public Library with her 2-year-old son. "I think we're in a deeper hole than the government wants to admit. I think they're just frantic now. They're trying to allay people's fears by giving them a little money."
Others, though, were giving the government high marks for its simple strategy.
"Anytime you put money in people's pockets, I think it has to help the economy, because I'm pretty sure people are going to spend it," said Tammy Willits, also at the library. "Very few people actually save."
Willits, however, plans to be the exception to the rule. She said the newfound money would be a boost to the children's college fund.
At Conroy's Pub on West Sixth Street, Kristin McGill worked behind the bar and made no bones about saving the money for a rainy day. It was her first day on the job at the bar, and she had plenty of need for cash to meet "ordinary" expenses that had been piling up.
But maybe there would be enough left over to take a quick trip to see her parents. Think of that: An economic stimulus and a mother's heart warmed.
At the Kansas Union, the fog of youth was heavier. Chris Redford, a computer science graduate student, said he hadn't been noticing the economic downturn much. He knew gasoline prices were higher, but thankfully he doesn't spend much time at the pump.
"The only thing I noticed was that Apple stock has been dropping," Redford said as he sat with an open Macintosh on his lap. "I pay attention to that."
Redford said he likely would take whatever money the government sent him - even part-time workers are expected to get a check - and put it all toward a new computer.
You, sir, are loved by your legislator.
But ultimately the success of an economic stimulus plan may rest more with the Krissy Yeadons of the world. How much goes back into the economy? How much goes into savings?
As soon as Yeadon mentioned savings, her mother - who lives with her daughter and the kids - reminded Yeadon of another matter.
"It sure would be nice to at least get the car fixed so it runs right again," said Carol Morris.
Outside in the parking lot sat a 1989 GMC van in bad need of a tune-up and a new heater.
Washington may get all of its wish after all.
Where's the money?
The $150 billion economic stimulus package that U.S. House leaders and the Bush administration agreed to Thursday would provide tax rebates to 117 million taxpayers and tax reductions to businesses. Here are the high points:
¢ Individuals with adjusted gross incomes of $3,000 to $75,000 would get rebates worth $300 to $600.
¢ Joint filers with annual incomes up to $150,000 would receive up to $1,200.
¢ Individuals and families that earn more than those limits would get rebates that decline as their incomes increase. Families also would get bonuses of $300 per child, except for families that earn more than $186,000.
¢ The rebates could start arriving in May, and most people could have them by July - if the Senate gives the measure quick approval.
Copyright 2018 The Lawrence Journal-World. All rights reserved. This material may not be published, broadcast, rewritten or redistributed. We strive to uphold our values for every story published.