-->
Photo Gallery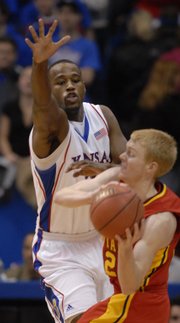 KU vs. ISU
Title forfeit: Darrell Arthur's alma mater will forfeit its 2005-06 Texas high school state basketball championship.
Dallas TV station WFAA reported that former South Oak Cliff player Kendrake Johnigan should have been academically ineligible for the 2006 regional and state tournaments.
According to The Dallas Morning News, Dallas schools superintendent Dr. Michael Hinojosa did not name Johnigan at a Wednesday news conference, but said that a former player was academically ineligible late in the 2005-06 season.
It was determined the unnamed athlete's failing grade in an English class was changed from 50 to 73.
Hinojosa said that no one at the school currently is responsible for the grade change. Coach James Mays was not at the news conference and had no comment when the Morning News contacted him.
"It's a painful situation," SOC principal Regina Jones told the Morning News. She began working at the start of the 2006-07 school year. "It is overshadowing the great things that are happening at SOC."
KU's Arthur commented on the situation after Wednesday's victory over Iowa State: "I heard about it. I haven't talked to my coach about it. I am mad about it (losing the title), but I've not talked to my coach and don't know what's going on with it."
¢Giles reaction: KU coach Bill Self on ex-Jayhawk C.J. Giles getting kicked off Oregon State's team: "I don't know details. Certainly it's unfortunate for C.J. and also unfortunate for Oregon State because when Oregon State took C.J. they took a guy they thought they could depend on."
¢Beasley boasts: Kansas State freshman Michael Beasley said this to CBS Sportline's Dennis Dodd: "We're capable of doing anything (this season). We can go 16-0 I think in the Big 12, win the Big 12 championship and go far in the tournament."
¢Faces in crowd: Royals GM Dayton Moore attended with players David DeJesus, Billy Butler, Joey Gathright and former player Dennis Leonard.
¢Tough competitor: ISU's Rahshon Clark fell hard after failing to convert a dunk in the first half. He returned and later converted a vicious slam and was fouled by Cole Aldrich on the play.
¢Stats, facts: KU's 19 victories to start the year are the most since the 1996-97 team won a school-record 22 games before suffering a loss. It ties for the third best start in school history. KU was 19-0 in 1989-90 and 1908-09. ... KU is 4-0 in the league for the first time since the 2004-05 season. ... KU has won 27 straight regular-season games. ... KU's senior class recorded its 100th victory. The seniors are 100-20. ... Self is 124-29 at KU and 8-2 versus ISU. ... Darnell Jackson has 51 points in KU's last three games. He tied a career-high with nine field goals made and set a new career-high with 14 field-goal attempts, which ties for the most by a Kansas player this season. ... Brandon Rush has 12 threes over the last four games. He has connected on 12-of-23 from beyond the arc during the last four outings. He tied a career high with six assists. He had six in a win over Niagara last March. ... Rush is in seventh place on KU's all-time three-point-baskets-made chart with 155. Rush moved past Kevin Pritchard, who is now in eighth place with 154 threes made. ... Mario Chalmers scored in double figures for the ninth time in his last 10 games with 10 points in the victory. ... Rush ranks 32nd on KU's all-time scoring chart; Chalmers 38th. ... Robinson moved into 10th place on the all-time assist chart with 426. He passed Jeff Boschee, who amassed 425 assists in his KU career.
Copyright 2018 The Lawrence Journal-World. All rights reserved. This material may not be published, broadcast, rewritten or redistributed. We strive to uphold our values for every story published.