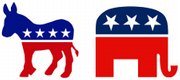 Full coverage of the 2008 Kansas Caucuses, including interactive map of polling places and a Q&A about the process.
A Republican official said Wednesday he could see Sen. John McCain getting support from Lawrence-area GOP voters, but he acknowledged the race for the party's nomination was still wide open.
"This race has been very fluid with momentum seeming to go up and down depending on the previous primary (or) caucus," said Craig Campbell, chairman of the Douglas County Republicans, during a Wednesday chat with ljworld.com readers.
Kansas Republicans will caucus Feb. 9, and party members can cast votes at any site in their congressional district. In Lawrence, most Douglas County Republicans will register to caucus at 9 a.m. at South Junior High School, 2734 La.
Campbell said former Govs. Mitt Romney of Massachusetts and Mike Huckabee of Arkansas could compete with McCain in Kansas. The competition could change if former New York Mayor Rudy Giuliani is able to build any momentum coming out of the Florida primary and other contests, he said.
The Douglas County GOP is also trying to use the Feb. 9 caucuses to build support for candidates or officials who hold or might seek local offices, Campbell said.
Anyone who wants to participate in the GOP caucuses must register as a Republican by Friday.
Kansas Democrats will caucus Feb. 5, which is known as Super Tuesday because more than 20 other states will have primaries or caucuses that day.
Jenny Davidson, communications director for the Kansas Democratic Party, participated in an online chat Tuesday. More information about the caucuses is available at www.ljworld.com.
Copyright 2018 The Lawrence Journal-World. All rights reserved. This material may not be published, broadcast, rewritten or redistributed. We strive to uphold our values for every story published.