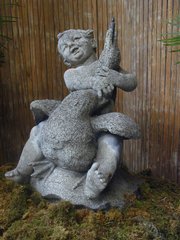 Washington — By their age and rarity, garden antiques add a unique character - an aura, really - to the spaces they define. Finding them is fraught with problems, however, and placing them can be just as tricky. But the quest can be a lot of fun and the payoff priceless.
"Anyone can have a boxwood parterre," says William Morrow, a landscape designer based here, "but a boxwood parterre with a faux bois planter in the center of it is one of a kind."
Risky decisions
Classically inspired ornament has its pitfalls in the New World. A knockoff of Venus de Milo surrounded by stockade fencing and double-shredded hardwood mulch is a risky proposition. Any piece must take its cue from the architecture of the house, says Morrow.
"These types of ornate garden ornaments have to be used very carefully," he says.
Another danger is in displaying more decorative pieces or furniture than a garden room can sustain. Once you get the collecting bug, "there's a major danger of cluttering," says Maggie Judycki, owner of GreenThemes landscape design company in Annandale, Va.
If the price is right
While garden antiques once were sleepers compared with interior pieces, bargains and steals are rare birds these days.
"They're becoming harder to find, the prices are skyrocketing, some of the stores that used to specialize in antiques are now doing reproductions," says Judycki, who has a sideline in authentic garden antiques, generally considered as dating before World War II.
Barbara Tapp, editor of Art & Antiques magazine, says that fine statuary in marble, bronze, stone and lead fetch high prices today and that 18th-century English lead sculptures have quadrupled in price in the past five years.
The Internet, of course, is a major reason that garden antique bargains are scarce these days: Anyone with a computer can see what a piece might be worth on the international market. "No one is giving away anything anymore," says Sotheby's Elaine Whitmire.
But acquiring antiques on the Internet is full of risks. Art & Antiques correspondent Bobbie Leigh wrote recently that the market is awash in fakes from China and Eastern Europe. Go through an expert if you want to find pieces on the Web, she counsels.
It is useful to know that a lot of stone pieces are not carved but cast from a reconstituted mix of concrete and aggregate. This is not necessarily bad, but the age and quality of reconstituted stone can run the gamut from cheap, seamed concrete (not antique) from a discount garden center to Coade stone, a kiln-fired clay-based mix used for statuary and building ornament and made in England between 1769 and 1833. It is the most precious and expensive stoneware on the market today, Tapp says.
Coade stone is practically as hard as Mount Rushmore, but it is worth noting that a lot of antiques made for mild European climates don't weather well in an American garden, especially if they are already age-worn. Limestone is attacked by acid rain, and marble can crack from winter freezes. Many terra cotta pieces will soon split in winter in many regions.
This has prompted many people to keep garden antiques as conservatory or sunroom pieces or within the home proper. They can look fabulous indoors.
Where to look
Where to find garden antiques? Pieces come up in sales. Dealers who specialize in outdoor pieces are an obvious starting point; otherwise, general antique dealers or antique emporiums can provide fertile ground. Estate sales offer the prospects of some bargains, but expect to invest a lot of your time trying to find something that you like and is usable.
The Finnegan Gallery of Chicago is one dealer that does deal wholly in garden antiques. "It's a limited field," co-owner Kaye Gregg says. For dealers, garden antiques "are difficult, they're not the easiest thing to move around and, particularly in the case of iron, you have to know what you're looking at" to avoid deception.
One way to find pieces full of character for the garden is to peruse architectural salvage yards or dealers. An old column, iron gate, finial, corbel or decorative sunburst could be just the thing to brighten a dull corner of the garden.
Copyright 2018 The Lawrence Journal-World. All rights reserved. This material may not be published, broadcast, rewritten or redistributed. We strive to uphold our values for every story published.