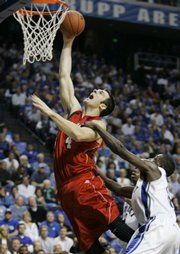 Louisville, Ky. — Not long ago, they were carrying him onto airplanes.
David Padgett couldn't bend either of his knees, so a couple of his Louisville teammates had to hoist the 6-foot-11 forward up the steps, squeeze him through the front door and cart him to the rear of the Cardinals' charter, where he could stretch out across three seats.
That was after the 2006 Big East Tournament in New York. Padgett eventually would need surgery on both knees - yet another medical procedure to decelerate the career of one of college basketball's most skilled post players.
"It's been tough for David," said forward Juan Palacios, Padgett's roommate. "Every time he starts doing well, something goes wrong."
That's why the past two weeks have been so refreshing at Louisville.
For David Padgett, things are finally going right.
Padgett, a senior, scored 17 points and snared 10 rebounds in the Cardinals' 71-51 victory over No. 13 Marquette on Thursday at Freedom Hall. An inspiring performance, considering Padgett "shouldn't even be on the basketball court."
Those were the words of Louisville coach Rick Pitino when Padgett returned Jan. 1 from a fractured right knee cap that initially seemed too severe to overcome.
Padgett suffered the injury during a Nov. 18 game against Jackson State. After viewing the results of his MRI the following day, doctors told Padgett that his career likely was finished.
He refused to believe them.
"I kept telling our trainer, 'I'll be back. I'll be back. I'll be back,''' said Padgett, who transferred to Louisville from Kansas University in 2004. "Unfortunately, I've been hurt enough to know how quickly I heal."
Before his knee surgeries in 2006, Padgett's career at Louisville was slowed because of a broken bone in his right foot. Knee injuries also forced Padgett to end his junior and senior seasons of high school basketball prematurely. In each situation, Padgett bounced back.
He vowed this time would be no different.
"I've never been one to throw in the towel," Padgett said. "I told the doctors, 'Do whatever you've got to do to get me back out there as soon as possible. It's my senior year. I'm not worried about the future. None of that is important to me. I just want to finish my senior year.'''
Padgett might have been confident, but Pitino certainly wasn't counting on him to return. He told reporters that he didn't expect to see Padgett in a Louisville uniform ever again, and that he hoped he could help the team from the sidelines as a student coach.
"He has an extremely bright future," Pitino said at the time. "It just may not be in basketball."
Still, while the Cardinals struggled without him, Padgett kept showing up each day for rehab. He continued to lift weights to maintain his upper body strength while the injured bone in his knee took time to heal.
"I knew the whole time," Padgett said, "that if I could do what I was supposed to do for about six weeks, and not get too aggressive with it and let it heal, that (I'd have a chance to come back)."
Sure enough, about a month after the injury, Padgett began to take part in the Cardinals' pregame shootaround, and word began to spread about a possible return. Miraculously, on the first day of 2008, Padgett found himself back on the court for Louisville's game against Cincinnati.
"And then we lost at home," Padgett chuckled. "Everyone had been saying, 'We can't wait to get David back. We can't wait to get David back.' I started to wonder if maybe I was bad luck."
Uh, no David. Not exactly.
Louisville has been a completely different team since Padgett came back. The Cardinals' four-game winning streak was snapped Saturday at Seton Hall, but it included a road victory against rival Kentucky and a tough home win over Bob Huggins and West Virginia.
Suddenly a Louisville squad that went from No. 6 in the preseason to unranked seems poised for a run at the Big East title.
"In a few more weeks we're going to really be good," Pitino said.
The Cardinals will be hard-pressed to play much better than they did in Thursday's 20-point beatdown of Marquette.
The Golden Eagles, who came in averaging 80 points a game, shot just 30.4 percent against Louisville's staunch defense and failed to make a three-pointer. Marquette also couldn't find a way to stop Reno, Nev., native Padgett, who used his trademark - the pick-and-roll - to get easy looks at the basket.
"David Padgett is the best screen-and-roll player I've seen in the last two or three years," Marquette coach Tom Crean said. "He facilitates their offense as well as any playmaker in the country. He's got a lot of value. He does exactly what they want him to do, and he's very effective at it."
As valuable as he is when it comes to scoring and rebounding, Padgett's biggest contributions have been in other areas.
Not many teams can match Louisville's talent and depth - "We have so many weapons," Pitino said - but the often-immature Cardinals aren't exactly known for their adherence to Xs and Os.
That's where Padgett comes in.
"When you have a player that acts like a coach, it's very easy," Pitino said. "He has a tremendous, positive effect on Earl (Clark) and Derek (Caracter). They see how much he focuses. On out of bounds plays, he's grabbing guys and putting them in the right spots.
"Generally you don't get big guys who are tremendous leaders or listeners. David is the exception. He's a tremendous leader."
Padgett's teammates feel the same way - and they appreciate him for it.
That's why they carried him up those steps and onto that plane. That's why they delivered food and books to his dorm room when his knee injuries kept him bedridden for two weeks. That's why no one was surprised when guard Terrence Williams rushed to Padgett's side a few weeks ago after a hard foul by Kentucky's Ramel Bradley.
"He's our captain," Williams said. "As long as he can walk, he's going to play."
Copyright 2018 The Lawrence Journal-World. All rights reserved. This material may not be published, broadcast, rewritten or redistributed. We strive to uphold our values for every story published.