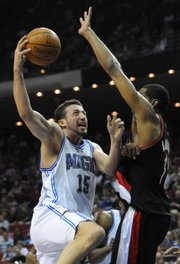 Bobcats 105, Grizzlies 87
Charlotte, N.C. - Jason Richardson scored a season-high 38 points and had 14 rebounds, and Charlotte held off a fourth-quarter rally to beat Memphis.
Kings 110, Pacers 104
Indianapolis - Ron Artest scored 15 points against his former team, and Sacramento beat Indiana. Artest still is disliked by Indiana fans for his role in the brawl between Pacers players and Detroit Pistons fans in 2004. He was booed often, but got his first win against the Pacers since he requested a trade from Indiana two seasons ago.
Magic 101, Blazers 94
Orlando, Fla. - Hedo Turkoglu scored 20 points, Rashard Lewis added 16, and Orlando held off a late surge to beat Portland.
Warriors 119, Bucks 99
Milwaukee - Al Harrington scored 27 points, Andris Biedrins added 20, and Golden State beat Milwaukee. Golden State, which has won five of six, outscored Milwaukee 41-22 in the third quarter.
Mavericks 111, Sonics 96
Dallas - Dirk Nowitzki scored 20 points, Devin Harris keyed a game-breaking run, and Dallas beat Seattle to hand the reeling SuperSonics their 10th straight loss. Seattle, which last won Dec. 29 against Minnesota, trailed 39-34 with 7:09 left in the first half before the Mavericks used a 27-10 run to build a 22-point halftime lead.
76ers 99, Raptors 95
Philadelphia - Willie Green tied a season high with 23 points, and Philadelphia survived a late rally. Andre Miller and Andre Iguodala each added 20 for the 76ers, who seemed to take command with a 24-5 run that started late in the second quarter and continued until midway through the third. Samuel Dalembert posted his fourth double-double in the last five games with 14 points and 13 rebounds.
Knicks 88, Heat 84
Miami - Jamal Crawford scored 22 points, and Nate Robinson added 19, including a banked jumper with 2:20 left that put New York ahead to stay, and the Knicks beat Miami - sending the Heat to their 13th straight loss, the longest in the league and the worst skein of Pat Riley's career.
Nuggets 111, T'wolves 108
Denver - Allen Iverson scored 35 points, including a fade-away jumper and two free throws in the final 30 seconds, and Carmelo Anthony added 26 as Denver held off Minnesota. The Timberwolves fell to 1-20 on the road this season.
Rockets 83, Spurs 81
Houston - Yao Ming had 21 points and 14 rebounds, and Houston beat San Antonio, handing the Spurs their fourth loss in six games. Rafer Alston added 16 points and six assists as the Rockets beat their in-state rivals for only the fourth time in the last 13 meetings. Tracy McGrady, who returned after missing 11 games with a sore left knee, had nine points on 4-of-12 shooting.
Tim Duncan had 24 points and 17 rebounds for San Antonio, which lost in Houston for the second time in six visits.
The Rockets led by 12 early in the second half, but appeared headed for their third straight fourth-quarter collapse.
Houston led 80-79 when Luther Head missed a reverse layup and Yao rebounded and dunked.
Bulls 97, Pistons 81
Chicago - Ben Gordon scored 33 points, and Chicago stayed perfect this season against Detroit, using a strong fourth-quarter defensive effort to beat the Pistons.
The Bulls outscored the Pistons 26-14 in the final period, improving to 3-0 this season against the team that eliminated them in the Eastern Conference semifinals last spring.
Andres Nocioni added 21 points in place of the injured Luol Deng, who was out with a sore Achilles' tendon. Chauncey Billups led the Pistons with 27 points, but Detroit shot only 5-of-18 in the last quarter.
The Bulls were nursing a 76-70 lead in the fourth, then ran off 10 straight points and were ready to take control with a 16-point lead.
Copyright 2017 The Lawrence Journal-World. All rights reserved. This material may not be published, broadcast, rewritten or redistributed. We strive to uphold our values for every story published.