A look at the life of Rod Bremby
RodBremby Timeline »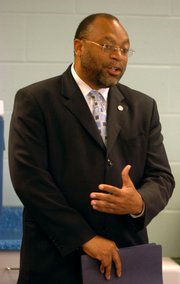 For days, Lawrence had been drenched in torrential rains. The Kansas River overtook the banks, water filled basements and first floors of houses and streets were closed down.
Each day, Lawrence Assistant City Manager Rod Bremby stood before the media taking questions, deflecting rumors and reassuring the public.
Yes, the levee was still holding. No, the wastewater treatment plant is not threatened. Drinking water should be boiled. Here's the number for the emergency preparedness hot line.
As the river raged and rain poured, Bremby stayed calm and confident.
Colleagues point to the flood of 1993 as a defining moment for Bremby.
Almost 15 years later and now serving as secretary for the Kansas Department of Health and Environment, Bremby is at the center of another storm with national implications.
Bremby's decision in October to deny Sunflower Electric Power Corp.'s air quality permit for two coal-fired plants in southwest Kansas was based on concerns about carbon emissions and global warming.
Environmentalists proclaimed Bremby a hero, casting him as David up against the Goliath interest of energy companies. Conservatives portrayed Bremby as caving under the weight of special interest groups and the governor's office.
The thing about Bremby, said John Nalbandian, former Lawrence mayor and chairman of Kansas University's public administration department, is that underneath the easygoing nature and the feathers that never seem to ruffle is a mind of its own.
"I think Rod is convinced this is the right thing to do," Nalbandian said. "And once he is convinced this is the right thing to do, he has a strong mind."
Since the decision, Bremby has shied away from the media and the subject of coal-fired plants. Even the initial announcement was videotaped and there was no news conference.
He declined to be interviewed for this story, but answered a series of questions posed by the Journal-World via e-mail.
While Bremby would disagree with the characterization that his recent decision has made him a polarizing figure in Kansas, he concedes that none of his other decisions have triggered such a response.
"I was not surprised by the reaction, due to the importance of the issue, but I have been surprised by the negative responses directed toward me personally by people I respect," he wrote.
The communicator
Former Lawrence City Manager Mike Wildgen said Bremby was one of his best hires during his 16-year tenure.
Bremby came to Lawrence in 1990 after spending seven years inside City Hall in Fort Worth, Texas.
He started as a management intern and eventually became an assistant in the city manager's office, drafting policy, working on the budget and handling residents' complaints.
"He had the big city experience, which is much more political than it is in a place like Lawrence," Nalbandian said. "So in some ways the politics (here) would have been a lot simpler for him to understand and to manage."
Bremby cites the 1993 floods as one of his more memorable lessons in Lawrence, when he learned the importance of communicating frequently, honestly and directly during a moment of crisis.
The 1993 floods weren't the only time that Bremby was thrust in front of unfriendly crowds. From neighborhood meetings to police and firefighter labor negotiations, Wildgen said Bremby was even-keeled and unflustered by pointed questions.
"I always felt I could send him out to just about any overwhelmed citizen or group that had concerns or issues and he could deal with them unemotionally, matter of fact, give them straight answers," Wildgen said.
Lawrence City Manager Dave Corliss, who started at the city about the same time as Bremby working as a management analyst, credits his former boss for setting up a multiple-year public safety plan that prescribed staffing levels and facility upgrades. It's still in use today.
From the river to the Hill
Another distinguishing mark on Bremby's 10 years at City Hall was his work with nonprofits.
At times, like during budget hearings, Nalbandian said, Bremby could cross the line from neutral staffer to advocate. He also was seen as a beacon in the minority community.
"As far as I know, he was the first African-American to have that high level of a job with the city, so everyone wanted a piece of him," Nalbandian said. "He had to deal with the idea that the African-American community, the minority community, saw him as this access to city government."
While serving as assistant city manager, Bremby helped kick off The Partnership for Children and Youth Inc., a now-defunct organization that worked to broker relationships within the community.
Bremby's work caught the attention of Stephen Fawcett, the director of KU Work Group for Community Health and Development.
At a downtown coffee shop and during a period when Bremby was soul-searching where his career would take him next, Fawcett said he offered him a job as assistant director.
Fawcett liked Bremby's vision, his ability to listen and the toughness underneath the soft-spoken voice.
Bremby wrote that he saw the job as an opportunity to see how social connectedness could affect the health of communities and a chance to earn a Ph.D.
In his three years at KU, Bremby worked on initiatives to match children with caring adults and bring youths and health programs to neighborhoods in Kansas City.
These programs, Fawcett said, renewed Bremby's faith that communities could be changed.
"He had prior experiences that left him a little doubtful about that," Fawcett said.
Alabama roots
Bremby is an introvert. He describes himself as purposeful, thankful and calm. He lists Willie Mays among his role models and his favorite food as sushi. He's a father of four and married to Lawrence native Dr. April Harris.
Bremby's mother describes her son as laid-back. As an adult, he is still that "humble child, sweet loving and caring," Margaret Johnson said.
Bremby was born in the small, rural Alabama town of Eufaula. In 1967, he and another classmate became the first black students to integrate into Eufaula's public school system.
Johnson's husband was a military policeman and the family moved around - to Arizona, the Netherlands and Germany.
In an e-mail, Bremby wrote that during his childhood, he saw the extremes of social inclusion and civic engagement. In many ways he felt more at home in Europe than he did in Alabama. Growing up in the Deep South in the 1960s, Bremby wrote that he was exposed - mostly through overheard conversations - to bombings, kidnappings, assaults and murders.
"Personally experiencing segregation in public accommodations and the process of integration helped me develop a resilience that has proven more valuable the older I get," Bremby wrote. "These experiences, taken together, helped shape my view of what is possible in a civil society."
Johnson said her son would finish his work early in elementary school and then walk around the classroom.
"It was always, if Johnny could make an A, (her son) could make an A plus," she said.
Bremby went to high school in Leavenworth, where he was elected senior class president, became a Junior ROTC member and played baseball.
But it was graduating from KU in 1982 that made his mother the proudest. He was the first in her family to do so.
Center of the storm
As newly elected Gov. Kathleen Sebelius took office, Nalbandian was among those who got a call from a confidant looking for Kansans to fill the cabinet. In the course of the conversation, Bremby's name came up.
Still, the announcement that Bremby was to be secretary of KDHE was unexpected, Nalbandian said. It's a position that comes with a more than $200 million budget and a regulatory reach that extends from day care centers to the cleanup of chemical spills. Last year, Bremby was paid $105,000.
"That is a pretty responsible job, so I am not going to say I wasn't surprise, but I can sure see the reasons and how he could do a good job," Nalbandian said.
State Sen. Marci Francisco, D-Lawrence, said she appreciates the tone Bremby has set as secretary, especially his plea for Kansans to take responsibility for their health.
Not everyone is happy. State Senate President Steve Morris and House Majority Leader Melvin Neufeld are among those who objected to Bremby's ruling against Sunflower Electric.
"I do think in the coal fire decision, the decision he made was probably outside of his authority," Morris said.
Even if it was a move Morris disapproved of, he said Bremby was gracious in its handling, calling before the announcement. Morris said Bremby told him it was one of the hardest phone calls he ever had to make.
"He knew it was a very tough decision and it would be controversial," Morris said. "He knew I was supportive of (coal-fired plant) and it was in my backyard."
Overall, Morris said Bremby has done a good job as secretary. That being said, Morris wants to look at how long it takes to process permits through the department.
Bremby made another controversial move last spring when he and his wife filed for chapter 13 bankruptcy.
"The majority of Americans who file for bankruptcy do so due to medical reasons, and the second reason is because of loss of job due to medical reasons, so we find ourselves as typical Americans who file for protection under the bankruptcy laws of the U.S," he told the Journal-World in April.
Morris said the bankruptcy is a personal matter and not a factor in Bremby's job.
Despite the decision, Bremby writes that his leadership of the agency hasn't changed. And he still mediates and communicates.
"I would like for us to be able to make the transition to a great service organization," Bremby said.
Francisco has known Bremby since his days at City Hall. She and the Brembys both lived on Ohio Street. She would pass his young children playing in the front yard on her way downtown.
And this fall, she was among those who wondered what her old neighbor's decision would be on the coal-fired plants.
"Here's the deal: we are governors of ourselves," Francisco said. "It is going to be our friends and neighbors and people that we know, each of us making those decisions."
Copyright 2018 The Lawrence Journal-World. All rights reserved. This material may not be published, broadcast, rewritten or redistributed. We strive to uphold our values for every story published.