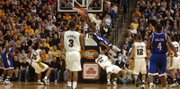 Columbia, Mo. — Julian Wright and his Kansas University basketball teammates looked up at the videoboard in Mizzou Arena.
They could not believe their eyes.
"It was their way to fire themselves up. Instead it gave us fire," Wright, a rookie with the NBA's New Orleans Hornets, said this week in a phone interview.
The 6-foot-8 forward was referring to a short - but not so sweet - big-screen recap of the Jayhawks' 89-86 overtime meltdown to Missouri on Jan. 16, 2006 in Columbia. That's the game in which KU blew a nine-point lead in the last two minutes - a five-point advantage in the last 29 seconds of regulation.
Suffice to say it was not something the Jayhawks wanted to be reminded of prior to the opening tip of last Feb. 10's rematch in Columbia.
"It's what they were riding on ... us not playing well. It was not like they were showing clips on their end. It was on our end. I said, 'We'll shut that down,'" Wright said defiantly.
It was unwise to incite the excitable Wright, who, after watching the controversial highlight reel, erupted for 33 points and 12 rebounds in KU's 92-74 rout of the Tigers.
The 33 points were most by a KU player since Nick Collison's 33 against Duke in 2003. Paul Pierce was last to score more (34) against Vanderbilt way back in 1997.
"It was my career high. It was fun," said Wright. "They gave us heat. When it's fast-break basketball ... my eyes light up against the press. We broke the defense down.
"I don't think too many teams want to press us this year," added Wright, well aware the Tigers likely will again run and press during today's 7 p.m. Border War battle against KU.
Wright, who played at KU two seasons before entering the 2007 NBA Draft, recalls driving the baseline for a two-handed jam over Kalen Grimes - one of the most spectacular plays of Wright's brief college career.
"Brandon (Rush) passed to me, and I made an 'And-one' dunk," recalled Wright, who scored nine points in a 24-2 run that opened a 14-point lead 15 minutes into last year's rout. "It's one of my favorite moments."
The entire game was pleasing to the Jayhawks, who barely survived the Tigers, 80-77, a few weeks earlier in Lawrence.
"I remember the game before was really close," said Wright, who scored six points versus MU in Lawrence. "It was a closer game than the one there. Missouri is always a tough game. There's something about K-State too. The in-state rivalry there made me a little edgy as well."
KU coach Bill Self, whose Jayhawks are doing just fine without Wright, would love to have him available today.
"Julian had 33 on 14 shots. He was fabulous," Self said of Wright, who hit 14 of 21 field-goal tries and five of seven free throws. "You go back and watch the tape ... Julian made some great plays for us, plays you can't coach. He was so effective against teams like Missouri - teams that pressure. If we could get the ball past initial pressure, he was fabulous - great ability to score and a great passer."
Brandon Rush - who also indicated he was fired up by the pre-game hoopla - also had a big game with 21 points off 8-of-10 shooting, including three three-pointers in as many tries.
Rush was fabulous against his brother Kareem's alma mater.
Wright, however, was unstoppable.
"Julian was great. He left his mark on a lot of guys here. His game rubs off on a lot of guys," said senior Russell Robinson, who had five assists against the Tigers in 29 minutes last year in Columbia; seven assists and six points in Lawrence.
What advice would lottery pick Wright give the Jayhawks heading to MU today?
"They're playing such good ball. I'd say, 'Maintain,'" Wright said. "They are the hunted this year. In the country's it's 1A, 1B and 1C (North Carolina, Memphis, Kansas in polls). Those three are separating themselves. I'd say, 'Stay humble,' but they are doing so well I don't really want to give advice."
Wright said he is not surprised KU remains undefeated early in the conference season.
"We lost in the Elite Eight. It left a bad taste in the players' mouths, the coaches' mouths as well," Wright said. "We are pushing to be the No. 1 seed this year. It's, 'Take no prisoners.'
"I watched (Monday) night. Darnell (Jackson) got that dunk to start the game (against Oklahoma). I said, 'Oklahoma might lose by 30 now.' They lost by 30. I was feeling it. They're really hungry."
As far as Wright ... he's keeping a positive mental attitude despite some first-year struggles in the NBA.
New Orleans coach Byron Scott recently put Wright on the inactive list - not because of injury, but what the New Orleans Times-Picayune deemed "unproductive play."
"It's been great. The NBA is great," said Wright, who has averaged 2.0 points and 1.8 rebounds while playing an average of 9.5 minutes in 24 of the Hornets' 38 games.
"I'm learning a lot. They expect you to know stuff. They expect you to ask questions of the right people. So much is thrown at you.
"You have to work hard. You have to earn the trust of the coaching staff. It's the same as when I first got to Kansas. You have to work hard and earn it."
Wright - his team is off to the best start in franchise history at 26-12 - will never second-guess his decision to leave school early.
Remember, he is making $1,449,300 his rookie season, to be followed by $1,558,000 his second season, $1,666,700 his third year and $2,381,714 his fourth campaign.
"I would say I miss a lot of people and the experiences," Wright said. "I am not in a situation where I regret anything or feel bad. I cherish my experiences, the people I met, the players and coaches. I cherish KU. I'd be foolish not to honor it."
He likes the makeup of the Hornets.
"The guys are humble," Wright said. "It's a close-knit team. Many teams in the NBA are about themselves. Our team ... everybody wants what's best for the team."
Yet it is not all fun and games.
"I am a rookie. Guys make sure I've got to earn my stay," said Wright, who is playing for a coach (Byron Scott) known as being tough on rookies. "The crowds are not the same, but we get good support. Nothing like Allen Fieldhouse though ... no way."
Wright said he plans on completing coursework to earn a KU degree in Communications, but it may take a while to walk down The Hill.
"It will be a few more years," he said. "I have a lot going on in the summers as well. If not this summer, I will soon (after) take classes. I've been trying to keep up on things, not just in basketball. I am a frequent customer of Borders and Barnes & Noble. I try to keep up with what is going on."
Wright is hoping to return to KU during NBA All-Star weekend to catch up with his teammates. There's a five-year KU hoops reunion planned for the Feb. 16 Colorado game.
"The All-Star game is in New Orleans. I may be doing some stuff here. I'll try to. It'd be great. If not that weekend, I don't know when," he said. "I love KU. Say hi to everybody for me."
Some text-messaging between Wright and his former teammates may be going on later tonight ... if the Jayhawks overcome MU.
"I've been chasing down some numbers that got changed. They've been chasing my number that got changed. I miss those guys," Wright said.
Copyright 2018 The Lawrence Journal-World. All rights reserved. This material may not be published, broadcast, rewritten or redistributed. We strive to uphold our values for every story published.