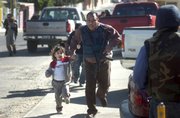 Tijuana, Mexico — Rosalba Padilla thought the first shots were nothing but construction in her quiet, upper-class Tijuana neighborhood. It wasn't until she looked out her window and saw a sea of police that she realized the noise was gunfire.
Down the street, at the Preschool of Happiness, director Gloria Rico activated the school's alarm, prompting police to rush into the building, their guns drawn. Rico said the children were terrified by the chaos.
"Some were crying, one vomited and another wet his pants," she said Friday, adding that the police quickly put away their weapons and started evacuating the children.
The fighting erupted as federal agents raided a house near the U.S. border Thursday that authorities say sheltered gunmen linked to drug traffickers. Soldiers and police joined skirmishing that became a chaotic three-hour battle. A federal agent and a gunman died and four officers were wounded in the latest outbreak of violence across the border from San Diego. Inside the house, authorities later found six slain kidnap victims.
The gunbattle and killings shocked even crime-weary Mexico. Many argued President Felipe Calderon should step up a yearlong crackdown on drug traffickers and other organized criminals that has sent soldiers into cities across the nation.
"What they need here is a heavy hand," Padilla said Friday while surveying blood-soaked streets and a bullet-ridden police truck. "The authorities need to be strong, very tough."
Padilla spent the shootout hiding in the closet with her 19-year-old daughter. As they crouched in the dark, they started to think they wouldn't escape alive. Gunmen across the street shouted that they would drop bombs unless police backed off.
"The gunfire was terrible," she said. "It made the walls shake. I really didn't think we were going to get out."
A day earlier less than two block down the street, police rushed children from a school vulnerable to gunfire from men holed up on the roof and top floors of the besieged safehouse.
Some of the children were carried by officers who crouched and pressed themselves up against the building to avoid the bullets. Other children ran out onto the sidewalk in groups under armed guard, their eyes wide with terror.
Copyright 2018 The Associated Press. All rights reserved. This material may not be published, broadcast, rewritten or redistributed. We strive to uphold our values for every story published.