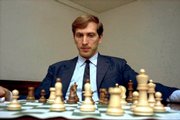 Reykjavik, Iceland — "Chess," Bobby Fischer once said, "is life."
It was the chess master's tragedy that the messy, tawdry details of his life often overshadowed the sublime genius of his game.
Fischer, who has died at the age of 64, was a child prodigy, a teenage grandmaster and - before age 30 - a world champion who triumphed in a Cold War showdown with Soviet champion Boris Spassky.
But the last three decades of his life were spent in seclusion, broken periodically by erratic and often anti-Semitic comments and by an absurd legal battle with his homeland, the United States.
"He was the pride and sorrow of chess," said Raymond Keene, a British grandmaster and chess correspondent for The Times of London. "It's tragic that such a great man descended into madness and anti-Semitism."
Fischer died Thursday of kidney failure in Reykjavik after a long illness, friend and spokesman Gardar Sverrisson said Friday.
"A giant of the chess world is gone," said Fridrik Olafsson, an Icelandic grandmaster and former president of the World Chess Federation.
Noted French chess expert Olivier Tridon: "Bobby Fischer has died at age 64. Like the 64 squares of a chess board."
In another bit of symmetry, his death occurred in the city where he had his greatest triumph - the historic encounter with Spassky.
Chicago-born and Brooklyn-bred, Fischer moved to Iceland in 2005 in a bid to avoid extradition to the U.S., where he was wanted for playing a 1992 match in Yugoslavia in defiance of international sanctions.
At his peak, Fischer was a figure of mystery and glamour who drew millions of new fans to chess.
Russian former world chess champion Garry Kasparov said Fischer's ascent of the chess world in the 1960s was "a revolutionary breakthrough" for the game.
Kirsan Ilyumzhinov, president of the World Chess Federation, called Fischer "a phenomenon and an epoch in chess history, and an intellectual giant I would rank next to Newton and Einstein."
An American chess champion at 14 and a grand master at 15, Fischer vanquished Spassky in 1972 in a series of games in Reykjavik to become the first officially recognized world champion born in the United States.
The Fischer-Spassky match, at the height of the Cold War, took on mythic dimensions as a clash between the world's two superpowers.
But Fischer's reputation as a chess genius was eclipsed, in the eyes of many, by his volatility and often bizarre behavior.
He lost his world title in 1975 after refusing to defend it against Anatoly Karpov. He dropped out of competitive chess and largely out of view, spending time in Hungary and the Philippines and emerging occasionally to make outspoken and often outrageous comments.
He praised the Sept. 11 terrorist attacks, saying, "I want to see the U.S. wiped out," and described Jews as "thieving, lying bastards." Fischer's mother was Jewish.
In his final years, Fischer railed against the chess establishment, claiming that the outcomes of many top-level chess matches were decided in advance.
Instead, he championed his concept of "Fischerandom," or random chess, in which pieces are shuffled at the beginning of each match in a bid to reinvigorate the game.
"I don't play the old chess," he told reporters when he arrived in Iceland in 2005. "But obviously if I did, I would be the best."
Copyright 2018 The Associated Press. All rights reserved. This material may not be published, broadcast, rewritten or redistributed. We strive to uphold our values for every story published.