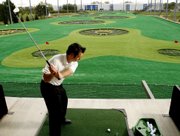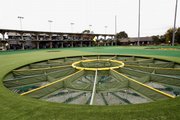 The Games
There are a variety of games available to visitors to TopGolf centers.
They are:
¢ TopGolf: Score points by hitting balls into any of the 11 targets.
¢ TopPressure: Aim for the nearby yellow targets. Score points by hitting as many of the nine segments as possible.
¢ TopChip: Hit the closest targets. Golfers must hit the red, yellow and green targets.
¢ TopShot: Hit targets at four consecutive distances. Golfers pick the starting target.
¢ TopPractice: Don't play for points. Golfers get exact yardage information for each shot.
TopGolf bills itself as "The Future of Golf. Today."
But that motto for the relatively new-to-the-United States brand of high-tech driving-range-with-attitude does both itself and the overall game of golf a disservice.
Even Joe Vrankin, chief executive officer of TopGolf USA, admits as much.
After all, by definition the future replaces the present, and Vrankin envisions a much more symbiotic relationship.
"I don't want to see TopGolf replace golf," Vrankin said. "I think the one thing TopGolf cannot replicate is going out to a big, open space where you can play 18. Playing 18 has its own fun aspects. I play a lot of TopGolf now, but I still have the desire to play on the course."
Rest assured, there's no confusing the two.
Golf is, well, golf. A "good walk spoiled," and all that.
TopGolf, in contrast, is something like a wired driving range - minus the boredom.
TopGolf facilities boast individual hitting bays in two- or three-decked facilities. TopGolfers swing real clubs at real balls - with embedded microchips - at dartboard-like greens. The 11 greens vary in distance and have sensors that relay how far each ball travels to a flat-screen monitor back in the hitting bay.
Golfers simply can whack away, as they would at a driving range with the added benefit of getting accurate, immediate feedback on each shot. Or they can play one of four games-within-the-game, scoring points for each shot.
Different games stress different skills, like distance, accuracy or the short game.
It's high-tech, but it's not virtual. The pace is as fast or as casual as the golfer desires. Play solo to improve your 18-hole score or play in a group simply to be a better TopGolfer.
"What TopGolf has the ability to do is bring a lot of new golfers into the sport who otherwise would not have played it," Vrankin said. "I think of it as a way of taking the casual golfer and making golf as a sport more fun and interesting to them. A lot of people who are casual golfers come and play not because they want to work on their game, but because it's entertainment.
"But avid golfers love it, too. One of the reasons I came over was, I'd never seen anything quite like TopGolf before. The more I got around it, the more excited I got about just how great of a business it is, about how much people love it. Having been in sports about a decade, in baseball and football and golf : it's very hard to find a product that appeals to all ends of the spectrum, from the avid golfer to the beginner. TopGolf has a way of doing that."
Born in the U.K.
Invented by a couple of Brits back in 1997 and realized three years later in Watford, England, TopGolf - it stands for target-oriented practice - came to the United States in 2005 when the center in Kingstowne, Va., outside Washington, D.C., opened. Last year, two more centers opened, in Dallas and in Wood Dale, Ill., outside of Chicago.
TopGolf corporate lore has it that the game was born of the boredom that typically permeates a normal driving range.
"The thing is, if you're an avid golfer and you want to work on your game, you go to a driving range," Vrankin said. "The challenge is, you go to a range, you're hitting to a flag or target theoretically, but you're not getting a lot of feedback. You hit 100 balls and you leave.
"But by creating a game aspect to it, while you practice, every shot counts. Every shot has the ability to score points. Each game is 20 shots, so you're concentrating on every shot, just like on the golf course. If you're with a group of friends, now you've entered a whole new idea of competition. It's a fun aspect for an avid golfer."
The TopGolf concept goes further, however.
The hitting bays can be cooled in summer and heated in winter, so the facility can stay open year-round. Facilities also include club rental, pro shops, teaching pros, lessons, mini golf and an on-site restaurant.
Food and drink is allowed - make that encouraged - in the bays.
"When I took this job, my wife had never played in her life," said Vrankin, former CFO and COO of the Arena League. "She didn't have any interest in golfing, no interest in picking up a club and trying to play where everybody knew how to play. She went to TopGolf. She had no choice, since I was CEO. When we left, she said, 'This is just fun. I'm going to do a girls-night-out here.' It's just an interesting way to play a game."
The future of 'The Future'
It would appear TopGolf successfully made the jump across the pond.
Vrankin said the oldest game center in the U.S., the Kingstowne facility, had a 25-percent increase in visits from the second to the third year, 30 percent the year before that.
Last year, 150,000 visitors smacked 12 million golf balls there.
"It's definitely a word-of-mouth kind of thing," Vrankin said.
Vrankin cites a customer poll conducted by Callaway. Visitors were asked to assess their overall experience on a scale of 1-7.
"One hundred percent of the respondents gave it a 5, 6 or 7," Vrankin gushed. "In all my years in marketing, I've never seen 100 percent give one place such high marks. Usually somebody doesn't like it. :
"The biggest challenge is getting people to try it for the first time. Once we do, we keep the vast majority of them."
TopGolf is looking to expand globally.
Central to that is a domestic plan to have 150 facilities in the United States in the next 12 years.
Expansion is aided by the fact each facility requires only 12-15 acres.
So, before long there well could be a TopGolf center near every major metropolitan area in the country, including Kansas City.
"The reality is, the Midwest is a huge golf area," Vrankin said. "It shouldn't be long before we're there."
For more information on TopGolf, visit the Web site at www.topgolfusa.com
Copyright 2018 The Lawrence Journal-World. All rights reserved. This material may not be published, broadcast, rewritten or redistributed. We strive to uphold our values for every story published.