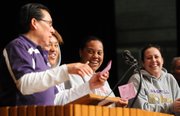 Before giving her first Spring Convocation address at Haskell Indian Nations University, President Linda Warner looked up convocation and what it meant.
It is generally referred to as a formal gathering, but it also is the collective noun for eagles. She thought the latter definition was more fitting for Tuesday's gathering.
"I thought that was really appropriate for this meeting today because : eagles have been used as a strong symbol for something that guides you," she said.
With about 500 students, faculty and staff in attendance at Haskell Auditorium, Warner called for them to help guide Haskell into a "cutting-edge" university and one that sets the standards for others.
"We want to think that Haskell is the hallmark of the tribal college movement," she said.
As part of that plan, she announced that Haskell would be offering a study abroad program in sustainable agriculture in collaboration with North Texas University.
Warner said 10 students would travel to Mexico in late May for the three-week program.
Warner also said Haskell's Board of Regents would meet next week to plan for the university's "next strategic era."
While briefly mentioning goals, Warner focused on whom and what Haskell represents.
"I would like us to think about who we are in terms of where we come from and what business we are about here," she said.
The 124-year-old college has 228 employees and about 840 students this semester. More than 50 percent of the students come from Kansas, Oklahoma and Arizona.
She also said Haskell would spend about $17.9 million to operate this fiscal year. When broken down, she said the federal government had invested $16,583 per student.
She then introduced the makeup of Haskell by calling out categories of people and having them stand. Such groups included: New students, continuing students, athletes, faculty and University of Oklahoma fans.
The latter group cheered when called to stand, but she laughed, "That isn't too cool after last night."
Her reference to OU's men's basketball team getting hammered 55-85 by Kansas University received laughter.
Brent Dunn, a new student from Oklahoma, attended the convocation and is excited about attending Haskell.
"The university is doing a good job of keeping me informed and letting me know where to go," he said. "I've already made at least 30 friends. It's pretty special."
Also in attendance was Vincent Townsend, a senior in business and former student body president.
He said he believes that Warner, who was hired in April, is still getting her feet wet.
"I think she is learning as much as the new students are. She hasn't been here a year yet," he said.
He also thinks Warner will be implementing more changes in the coming year, he said.
"From what I could hear out of the convocation, it sounds like there is still a lot of growth going on."
Copyright 2018 The Lawrence Journal-World. All rights reserved. This material may not be published, broadcast, rewritten or redistributed. We strive to uphold our values for every story published.