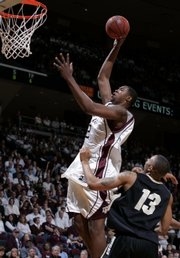 Losing its head coach and best player doesn't seem to be slowing down Texas A&M; one bit.
If anything, says Texas Tech assistant coach Pat Knight, the Aggies are better than last year, when Billy Gillispie and Acie Law led them to a school-record 27 wins in one of their greatest seasons ever.
"I don't think there's been any letdown at all," said Knight, who will help his dad, Bob, coach Texas Tech against the Aggies on Wednesday night. "We've been talking about that."
After Gillispie departed for Kentucky, the Aggies lured Mark Turgeon out of Wichita, where the former Kansas University guard had gone 128-90 and proven himself worthy of a career upgrade. They also had to figure out a way to get through life without Law, a stellar point guard and last-shot specialist.
While Gillispie has struggled at Kentucky in the early going, Turgeon has the Aggies clicking along. They've won eight in a row while compiling a 15-1 record, including an 86-69 whipping of Colorado last week in their Big 12 opener. Ranked No. 11 going into the first full week of conference action, Texas A&M; is fifth in the nation in field-goal percentage (51.3), third in field goal percentage defense (35.3) and fifth in scoring margin (20.9).
So much for a period of painful readjustment.
"They're still a very good team," said Knight, who stepped in for his dad in Monday's Big 12 coaches conference call. "Coach Turgeon's done a good job. He took it where it was and kept going with it. I think even he got tired of people talking about what a good job Billy did. Now you've got to give him credit. It's his team. He deserves all the credit for keeping it going. He lost Acie Law, the MVP of this league, and they haven't missed a beat. It actually looks like they're playing better as a team than last year."
The Aggies shot 85.7 percent from the free-throw line against Colorado, the third time in their last five games they have been over 70 percent. Helping ease the pain of losing Law has been senior guard Dominique Kirk, who has 24 assists and only five turnovers in his last five games.
Turgeon, who played for Larry Brown and worked under Roy Williams at Kansas, will be facing a Knight-coached team for the first time as the leader of a program. But it won't be the first time he has scrutinized the Hall of Fame coach. As a 23-year-old graduate assistant under Williams, Turgeon attended one of Knight's coaching clinics at Indiana and discovered things he still uses.
"I still do drills that I learned at that clinic," Turgeon said. "I've followed him for a long time and studied him, even from afar, even when I wasn't in his league, watching his teams play, trying to get a feel for things they did offensively."
Copyright 2018 The Associated Press. All rights reserved. This material may not be published, broadcast, rewritten or redistributed. We strive to uphold our values for every story published.