Photo Gallery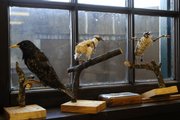 Taxidermy
Baldwin City — Taxidermy, the art of preparing, stuffing and mounting the skins of animals, is back as an interterm course at Baker University.
"I don't recall how many times, but I think I've taught it five or six times during interterm," said Roger Boyd, senior professor of biology.
Before the three-week class ends Friday, Boyd's students will have stuffed and mounted deer, bobcats, coyotes, raccoons, opossums, jackrabbits, eastern cottontails, pheasants, quail, ducks, Canada geese, minks and a fox. Boyd said they also would work on a great-horned owl, barred owl and a red-tailed hawk - three protected species donated by a game warden after they were killed.
Of all of the species his class is working with, Boyd said, pheasants are the easiest for students to manipulate.
"They are like chickens in that they have very tough skin," Boyd said. "They are easy to skin out and they don't usually have a lot of fat on them. They look really good when they are done."
Ducks, on the other hand, have a high fat content, which increases the level of difficulty. Regardless, one student is eager to work on his duck.
"I think if I learn how to do those pretty well, I could do that in my spare time because I go duck hunting a lot," said Kyle Ruona, a junior from Baldwin City. "I also think the mink would be kind of cool. It's something different."
Freshman Whitney Preston feels a sense of accomplishment during the class.
"I'm learning new things all of the time," said Preston, one of two women in the class. She said her options for an interterm class were limited, so she and a friend decided to try taxidermy.
"It was a little strange for us to be the only girls at first, but we kind of expected it," Preston said. "It just isn't a class that would appeal to many girls. We've gotten some weird looks on people's faces when we they ask what interterm we're in and we tell them we're in taxidermy. : We get all kinds of responses from people who think we're lying to looks of disgust."
Copyright 2017 The Lawrence Journal-World. All rights reserved. This material may not be published, broadcast, rewritten or redistributed. We strive to uphold our values for every story published.