Photo Gallery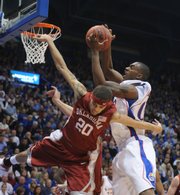 KU vs. Oklahoma
Kansas University might not be at the top of the national basketball rankings, but upon losing to No. 3 KU, 85-55, Monday night at Allen Fieldhouse, Oklahoma coach Jeff Capel thinks the Jayhawks should be.
"They are the best team in the country," Capel said.
His Sooners (12-5 overall, 0-2 Big 12) also played undefeated No. 2 Memphis on Nov. 15, a game OU lost, 63-53. And Capel didn't hesitate when asked to compare KU (17-0, 2-0) to Memphis (15-0, 2-0 Conference USA).
"I think they're better," Capel said matter-of-factly about the Jayhawks. "It's the best team we've played.
"They're so balanced. They shoot it better than Memphis, they're bigger, they're probably equally good in transition. I think this team (KU) passes the ball better. I don't think it's close that this is the best team in the country."
The Jayhawks didn't waste any time proving themselves to OU. Darnell Jackson scored on a dunk four seconds into the contest, and KU opened the game on a 9-0 run.
"They're incredibly good, but we had to handle pressure better, which we didn't to start the game. They forced us into taking some bad shots and hurried shots," Capel said. "Bad shots turned into easy baskets for them. They do a great job of turning turnovers and quick shots into transition baskets."
That opening KU run turned out to be the least of OU's problems. Guard Tony Crocker went to the bench with two fouls at the 17:01 mark, and less than two minutes later the Sooners' phenomenal freshman forward, Blake Griffin, went to the floor because of a left knee injury. Griffin was escorted off the court to be examined and did not return to the game.
Griffin said afterward that he just came down on his knee wrong.
"I went up for a rebound and came down kind of funny. I kind of felt it pop," Griffin said after playing only five minutes and going 0-for-2 in the loss. "Right now, all we know is that I have a sprained MCL, but we will know for sure tomorrow after the MRI."
Griffin came into the contest averaging 15.4 points and 9.1 rebounds, so his presence will be missed should the injury keep him out of future action, Capel said.
"I'm glad we have a few days, so we can figure out where we are injury-wise," the second-year OU coach said, adding that with or without his star player, the team needs to get better. "Everybody's got to step up anyway, even if he comes back we've got to step up."
OU senior center Longar Longar, who led the Sooners with 21 points, said his team immediately felt the impact of losing Griffin.
"It's a big loss for us. Blake is one of our big options inside. Offensively and defensively, he's a force down there," Longar said, noting that OU missed Griffin's rebounding and scoring.
The injury couldn't have come at a worse time for Griffin, who had made 64 percent of his shots in the previous six games.
"At the same time, we've got a lot of guys that have been playing well and are capable of helping this team," Griffin said. "Hopefully we can find a positive from this and just go from there."
Once Griffin left the game, Capel told his team to keep competing. Down 40-20 at the half, he told his team to chip away at the lead in hopes of cutting the deficit to 10 midway through the second half. OU got off to a decent second-half start with a 5-0 run.
"We were doing it by executing - running our stuff all the way through - getting stops," Capel said, "and then we took a couple of quick shots, and they turned those into transition baskets."
The 30-point loss was OU's biggest of the season, with the previous largest margin coming in a 66-55 loss at Southern California. But Capel didn't make any excuses for the loss.
"It wasn't (about) stuff that we didn't do," he said. "They're better than us. That's what it basically comes down to."
Copyright 2018 The Lawrence Journal-World. All rights reserved. This material may not be published, broadcast, rewritten or redistributed. We strive to uphold our values for every story published.