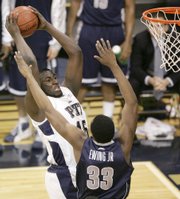 Pittsburgh — A few days after Pitt lost starters Levance Fields and Mike Cook to injuries last month, coach Jamie Dixon delivered a simple message to his nine healthy scholarship players.
Namely, he would allow no excuses the rest of the season, nor would he set any limitations for those who remained.
Maybe he should have added this, too: Not many losses were permitted, either.
Ronald Ramon and Keith Benjamin, playing new roles because of the injuries, both scored 18 points, and the 15th-ranked Panthers surprised No. 5 Georgetown, 69-60, on Monday night.
The Panthers (15-2, 3-1 Big East), their season seemingly in peril when starters Levance Fields and Mike Cook were hurt a game apart in late December, are 4-1 with Ramon at point guard in place of Fields and have stretched their home-court winning streak to 13 games.
"Maybe we had fewer players, but I didn't hear anybody talking about getting ready for next season," Dixon said. "We knew we still had to get better, we still had to get stuff done."
Freshman DeJuan Blair did that in this game despite giving up seven inches to Georgetown star center Roy Hibbert by getting 15 points and nine rebounds. In two games against teams that were ranked in the top 10 at the time, Duke and Georgetown, Blair has 30 points and 29 rebounds.
Jonathan Wallace had 14 points for Georgetown (13-2, 3-1), which had won five straight overall and had beaten Pitt four of five times. With the Hoyas' loss there are no teams unbeaten in Big East play.
Copyright 2018 The Associated Press. All rights reserved. This material may not be published, broadcast, rewritten or redistributed. We strive to uphold our values for every story published.