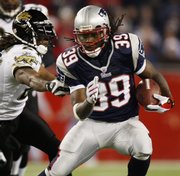 Foxborough, Mass. — Laurence Maroney ran to his left and waited. His chance was about to come.
Tom Brady scanned the defense then turned toward him and threw a short pass. Underutilized most of the season, Maroney caught it and raced up the left side for a 33-yard gain. It was the Patriots second offensive play.
"Hopefully, I was going to catch them sleeping, and I did," he said.
Eight plays later - two of them runs by Maroney - the Patriots had a touchdown and were on their way to Saturday night's 31-20 playoff win over the Jacksonville Jaguars.
Now the 21st pick of the 2006 draft - nine spots before the Colts Joseph Addai - is waiting for the AFC championship game against the San Diego Chargers next Sunday and another comparison by which he falls short. That would be NFL rushing leader LaDainian Tomlinson.
Tomlinson's status is uncertain after a knee injury sidelined him for most of Sunday's 28-24 win over the Indianapolis.
Still, there's no longer any doubt about Maroney, a bystander most of the season to New England's record-breaking combo of Brady and Randy Moss. Opponents realize they must pay attention to the shifty 220-pounder who doesn't mind running over would-be tacklers.
"I don't think he probably had all of the opportunities he would have hoped," Brady said. "But his role has been whatever he's got, and he's been extremely productive."
Not really, unless the quarterback is talking about the last four games.
In the first 13, Maroney missed three with a groin injury and cracked the 100-yard rushing barrier just once. Early on, he even shared time with Sammy Morris, a free agent pickup expected to be a backup.
"We have been here and worked hard, and knew we would finally get a chance to show the world that we do have some type of running game," Maroney said.
Now he must wait for a chance to do it again on Sunday.
"Laurence, thank God, lost it there for a little bit," Brady said. "But he's obviously found his way."
Copyright 2018 The Associated Press. All rights reserved. This material may not be published, broadcast, rewritten or redistributed. We strive to uphold our values for every story published.