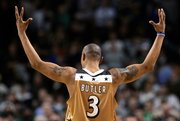 Wizards 88, Celtics 83
Boston - Caron Butler scored 21, helping the Wizards to their second victory over the Celtics in three days.
Antawn Jamison added 20 points and 10 rebounds for the Wizards, who handed Boston its first two-game losing streak of the season.
Butler scored nine points during a 25-6 run over the final 6:24 of the fourth quarter to give the Wizards their fifth victory in the last six games against Boston.
Trail Blazers 99, Nets 73
East Rutherford, N.J. - LaMarcus Aldridge scored 20 points to lead Portland to its 18th victory in the last 20 games.
Portland never trailed and got contributions from up and down the lineup. Brandon Roy scored 16 points, Jarrett Jack had 15, Travis Outlaw 13 and James Jones 10.
Spurs 89, 76ers 82
San Antonio - Manu Ginobili scored 14 of his 20 points in the fourth quarter to lead San Antonio. Tim Duncan added 18 points and 16 rebounds.
Bobcats 119, Nuggets 116
Charlotte, N.C. - Gerald Wallace scored 40 points, Matt Carroll hit two free throws with 4.6 seconds left, and Charlotte made the big plays down the stretch to beat Denver.
After consecutive heartbreaking losses, Wallace carried the Bobcats in a fast-paced game with numerous dunks and little defense.
Jazz 98, Bucks 87
Salt Lake City - Deron Williams scored 24 of his 33 points in the second half and had 10 assists as Utah rallied.
The Jazz held the Bucks without a field goal for the first 7:25 of the fourth quarter while pulling away for their fourth straight win, Utah's longest streak since November.
Lakers 123, Sonics 121, OT
Seattle - Kobe Bryant scored 48 points and capped his season-best offensive outburst by swishing an 18-footer with 4.3 seconds left in overtime.
Kings 122, Mavericks 120
Sacramento, Calif. - Kevin Martin scored 39 points in his second game back from a groin injury, and John Salmons hit a game-winning drive with 2.6 seconds remaining to help Sacramento snap Dallas' seven-game winning streak.
Copyright 2018 The Lawrence Journal-World. All rights reserved. This material may not be published, broadcast, rewritten or redistributed. We strive to uphold our values for every story published.