Photo Gallery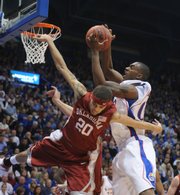 KU vs. Oklahoma
Now - two weeks into the new year - is typically about the time those new year's resolutions tend to deteriorate, whether they be to lose weight, quit smoking or not to curse so much.
So far, the Kansas University men's basketball team has bucked that trend - at least at the charity stripe.
Coach Bill Self noted that as one of the areas needing improvement following a Dec. 29 home victory over Yale, and so far in 2008 the Jayhawks have shaped up. KU was a season-best 17-of-18 from the line in Monday's 85-55 victory over Oklahoma at Allen Fieldhouse.
"After every practice, we take like 45 minutes to shoot free throws - no talking," KU senior Darnell Jackson said. "You shoot two free throws, run it down and back, shoot two free throws, run it down and back. We're just constantly shooting free throws after every practice, and it's just paying off."
This is nothing new, however, according to Jackson, as the free-throw method he described dates farther back than December.
Jackson attributed the upswing in free-throw consistency to hard work.
In four games during the month of January, KU is 67-of-88 from the line. That calculates out to a 76.1-percent efficiency, compared to a 62.8-percent clip (167-of-266) during the season's first 13 games.
Monday night, the freebies did nothing more than add insult to injury. Without super freshman Blake Griffin for most of the night because of a knee sprain, Oklahoma was practically punchless. In a way, it gave KU's big men the green light to go even harder to the rack.
And go figure: The trees have been as efficient as anyone at the line this month.
The threesome of Jackson, senior Sasha Kaun and sophomore Darrell Arthur have converted 35 of 45 free-throw attempts since that Yale contest.
Unfortunately for Jackson, his lone slip-up at the line Monday was the only area of his performance that left him open to a bit of friendly poking and prodding from the media afterwards.
After all, someone has to be the goat when only one free throw is missed all night.
"I'm sorry," he said with a grin. "I'll make up for it. I'll go in the gym, practice my free throws. I don't need to miss any more."
Copyright 2018 The Lawrence Journal-World. All rights reserved. This material may not be published, broadcast, rewritten or redistributed. We strive to uphold our values for every story published.