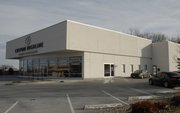 Custom Highline, a Lawrence business that locates, buys and sells luxury automobiles, is hoping to reopen next month as it works to settle debts with creditors of at least $2 million.
The business, 1527 W. Sixth St., is closed now that its remaining cars have been taken to another Lawrence dealership for sale - with the expected proceeds set to pay off portions of debt owed to Central National Bank and National Bank of Kansas City, Mo.
Zarif Haque, co-owner of Custom Highline, said he and his business partners were working to settle their debts and move forward with new inventory and newfound experience.
"It's a large dispute between inventory financing and a line of credit," Haque said Monday of the civil lawsuit filed late last year by Central National and involving several other parties. "We are taking every step to make all the banks whole.
"We essentially got too big too quick. That's what it comes down to."
Earlier this month, Custom Highline agreed to give possession of its remaining vehicles - what was left of a lineup that had included a variety of Cadillac, Lexus, BMW, Mercedes and Infiniti models - to both Central National and National Bank, in a pact signed off on by Douglas County District Judge Stephen Six.
Documents filed in the case indicate Custom Highline took out a $1.5 million loan from Central National in March 2006 - temporarily expanded to $1.6 million last year - to be used for acquiring vehicles and other property. The bank said that as of Nov. 8, when it filed for and received a restraining order from Six, Custom Highline had nearly $925,000 in inventory securing the loan.
National Bank, meanwhile, has asserted it loaned money in March 2006 to Custom Highline Wholesale, another business co-owned by Haque and his partners that still provides car washes and other services on site. The loan was renewed, in April 2007, by including Custom Highline as a borrower, and the outstanding balance late last year exceeded $600,000, according to the bank.
All 33 vehicles listed by National Bank - doing business as Great American Acceptance Corp. - as collateral for its loan also were included on a longer list of vehicles named as collateral for Central National's loan.
Also in the case, Automotive Finance Corp. - which says it is owed more than $313,000, plus interest - listed seven vehicles as collateral for a loan that it had provided in February 2006 for Custom Highline. All seven of those vehicles also appeared on Central National's collateral list.
Bruce Woner, a Topeka attorney representing Central National, declined to discuss specifics of the case or what effect the overlapping collateral might have on proceedings.
"The matter remains in litigation and, at this moment, the primary parties involved, and their lawyers, are working toward a hoped-for mutual settlement," Woner said.
Custom Highline previously operated at 2441 W. Sixth St., the former home of Rueschhoff Locksmiths and Security Systems. David Rueschhoff is a co-owner of Custom Highline, which had relocated in May 2007 to the larger lot and showroom built at 1527 W. Sixth St., a site formerly home to Quick's Bar-B-Q.
Haque said the operation was online to resume dealing in luxury automobiles in February. He also confirmed that he had ceased operations for another of his business interests - Dooph.com, a Web site advertising and offering coupons for area restaurants - as he focuses on getting Custom Highline up and running again.
"We do intend to get back into business," Haque said of the car operation. "We actually, voluntarily, are restructuring the company and our debts."
In US court
Custom Highline and Custom Highline Wholesale also are facing a civil suit in federal court, this time from a company that says it is owed nearly $104,000 in fees and penalties for equipment leased to the auto sales and service operations at 1527 W. Sixth St.
Leaf Funding Inc. says it has leased $75,000 worth of equipment - from an aligner to work benches - to the operations.
David Rueschhoff, co-owner of Custom Highline and Custom Highline Wholesale, filed a response last week in U.S. District Court, denying that he and co-owner Zarif Haque owe $103,990 to Leaf. He requests a jury trial.
- Mark Fagan
Copyright 2018 The Lawrence Journal-World. All rights reserved. This material may not be published, broadcast, rewritten or redistributed. We strive to uphold our values for every story published.