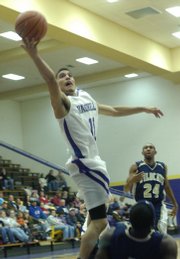 For a moment, Haskell Indian Nations University's Ben Carrywater forgot where he was.
The Fightin' Indians junior forward had the ball with less than 15 seconds to go in regulation against Johnson & Wales University on Friday with Haskell trailing by three. With the shot clock winding down and his mind wandering, Carrywater caught a break.
"I forgot about time," Carrywater said. "Then I heard the crowd counting down the clock so I thought I should get rid of it. It felt good coming out, but I wasn't really trying for the glass, but it went in."
With one tick left, Carrywater put up a desperation shot that found its way off the glass and into the basket and sent the game into overtime, and HINU rallied for an 83-80 victory at Coffin Sports Complex.
Haskell (7-8) found itself in a fight with the Denver-based Wildcats from the beginning. The opening 10 minutes of the game saw three ties and four lead changes. The Wildcats, however, took charge late in the half and built a 34-21 lead - the only double-digit lead for either team the entire game.
The Indians made a run to close out the half, outscoring the Wildcats 13-5 to close the gap to five at halftime.
"It wasn't the most artistic thing out there," Haskell coach Ted Juneau said. "But we've now had two home games where we've had to fight and really reach down. But I know the team will learn from it."
The second half proved just as tight, with five more lead changes and four ties, including the crucial one following Carrywater's late three-pointer. Haskell battled back from a six-point deficit to send the game into overtime.
In the extra time, the Indians' had key three-pointers from sophomore Vince Chavez, senior guard Chad Kaler and freshman Daelan High Wolf.
The Indians also took care of business at the free-throw line in OT, hitting four straight to seal the victory.
Haskell finished the game 17-of-22 from the foul line. Chavez led the Indians with 18 points, while Carrywater finished with 17. Terrance Little Thunder added 12. Haskell will begin conference play on Tuesday against Peru State.
Copyright 2018 The Lawrence Journal-World. All rights reserved. This material may not be published, broadcast, rewritten or redistributed. We strive to uphold our values for every story published.