Photo Gallery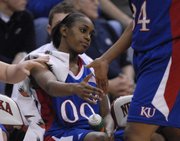 KU vs. Nebraska women's basketball
Lincoln, Neb. — Again for the Kansas University women's basketball team, three days will have to do.
KU will take on No. 8 Baylor on Wednesday night in Waco, Texas, but now carries with it an 0-2 Big 12 record after being haunted Saturday at Nebraska by a not-so-old nemesis - foul trouble - in a 71-51 loss to the Huskers in the Devaney Center.
Just as was the case nearly 72 hours earlier in the conference opener against Oklahoma State - a 59-54 loss - foul woes kept leading scorer Danielle McCray on the bench for much of the first half. This time, though, the too-sticky defense also plagued senior forward Taylor McIntosh.
Compounding the effect of the Jayhawks' 21 personal infractions was a 30-of-32 showing by the Huskers from the free-throw line.
"Those two have to embrace how important they are for this basketball team," KU coach Bonnie Henrickson said. "When Taylor's out, you're going to go freshman-freshman-sophomore. And that just handcuffs them. And when Danielle goes out, with Kelly Kohn being out right now, that's a lot of pressure on Sade (Morris), LaChelda (Jacobs) and Ivana (Catic).
"We've got to stop fouling."
The 'freshman-freshman-sophomore' line Henrickson referred to is Krysten Boogaard, Nicollette Smith and Porscha Weddington. Boogaard and Weddington went scoreless Saturday, while Smith eventually fouled out with nine points and five rebounds.
And Kohn missed her second game in a row after spraining an ankle last week in practice, again appearing on the Jayhawks' sideline in uniform but sporting a walking boot.
Some added depth might have helped when Nebraska made its biggest move of the contest late in the first half.
McCray's second field goal of the game at the 7:18 mark in the first half to cap a 9-1 run, shooting Henrickson's club ahead 19-16. She was whistled for her second personal foul just 31 seconds later and headed for the bench.
McIntosh's second whistle followed McCray's by 20 seconds, putting her right next to the Jayhawks' leading scorer on the sideline. The fouls came at the onset of a 17-2 Nebraska run, during which the Huskers (13-3 overall, 2-0 Big 12) went 5-of-5 from the floor and 6-of-7 from the line. In that same stretch, KU (11-4, 0-2) went 1-of-7 from the field and turned the ball over four times.
The Huskers never looked back, paced by a game-high 15 points from junior Kelsey Griffin. Griffin's teammates were a combined 21-of-21 from the free-throw line.
McCray led KU with 14 points, though that included a pair of threes in the second half with the game's outcome no longer in question. Sade Morris chipped in 11 for Kansas.
"I kind of put it on myself, just fouling and not being disciplined," said McCray, who has combined to play 19 first-half minutes in the team's first two Big 12 games. "I know it's kind of hard coming off the bench and back in the game and trying to get the offensive flow."
She wasn't the only one who had trouble with offensive-flow issues, as Henrickson left unhappy with what her team showed on both ends of the floor.
"Most people in here probably thought our offense was called '6-5-4-3-2-1,'" she said. "We lost our poise. We didn't necessarily turn it over, but we never got in much of an offensive rhythm and flow.
"Defensively, we had no presence. We didn't match their intensity or match them in passing lanes. We never were disruptive, we didn't deny anything, and that's disappointing, because that's how you're going to win in this league - you've got to be willing. It's a want-to, to want to work and guard, and we didn't do that today."
Copyright 2017 The Lawrence Journal-World. All rights reserved. This material may not be published, broadcast, rewritten or redistributed. We strive to uphold our values for every story published.