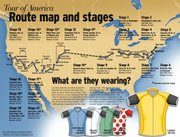 At least Frank Arokiasamy can't be accused of small thinking.
When Arokiasamy announced his plans last September to start a Tour-de-France-style cycling race across the United States, he threw out all sorts of superlatives.
He proposed a 27-stage monster, from New York City's Central Park to Palo Alto, Calif., covering 4,000-4,500 miles - nearly twice as long as the Tour de France - and touching 22 states. And he promised a total prize purse of $11 million, including a record $1 million to the winner.
Perhaps it came as no surprise his announcement was met with overwhelming skepticism. And more than a little intrigue.
"We wanted to create a wow factor," Arokiasamy said. "In getting a wow factor with corporate people : this is huge. The thing is, if we pull it off, they want to be a part of it. A lot of people want to be a part of it, on the corporate side, the team side and the city side.
"And we want it to be huge. We want it to be the second Fall Classic after the World Series."
That's right. Arokiasamy thinks his event - which even he says is only 85- to 90-percent certain to be held this fall - belongs up there with mom and apple pie on the American sporting scene.
"Is America ready?" he asks. "I think America is more than ready."
But will Arokiasamy be?
Scaling back
Reacting to criticism to his original route, Arokiasamy has scaled things back a bit.
Now the proposed Tour of America has been shortened to 21 stages and "just" 2,237 miles.
"At our initial announcement at Interbike in Las Vegas, everybody kept telling me, 'Frank, this is unrealistic. It's too hard for the cyclists,'" Arokiasamy said. "One of the things I tell my staff from Day One is, 'Check your egos at the door.' This isn't about you and it isn't about me. It's about making things happen. One of the things about checking your ego at the door is listening to everybody to get a realistic feel for what needs to be done to make this work.
"We looked at the route, looked at all the comments we got and decided the event was really too long, the stages were too long. People said we'd have to cut back, so we did."
It wasn't just the event's total length, added Chip Smith of Aqu affiliate SOAR Communications, but the length of some of the stages vastly outdistanced those of the establish major stage races.
"One of the biggest reasons for the route changes is that they didn't fit within standard racing protocol," Smith said. "We had some 200-mile stages. Most pro races are 150 at most. Some of it was the distance, some the number of days in stages. They're not used to racing more than 21 days."
That's not to say the proposal has become easy.
"Initially, we went way overboard," Arokiasamy said. "We had to cut it down so it would be acceptable to cyclists, but we still wanted it to be the hardest."
A tour is born
Arokiasamy said the Tour of America was born from his viewing of the 2002 Tour de France.
A casual bike rider - "I do bike once in a while," he says, "but in no shape or form am I a cyclist" - Arokiasamy was awed by Lance Armstrong's domination of the Tour.
"Lance was dominating the race whenever he wanted," Arokiasamy said. "The American cycling teams were doing well. U.S. Postal was doing well. Watching that, I thought, 'Whey can't I watch Lance race a competitive race (in the U.S.)?' It didn't make sense. It's the largest economy in the world. Why didn't we have a race like that?"
So Arokiasamy, a California business consultant who boasts a Ph.D. in economics, started asking around.
He talked to cyclists and people in the cycling industry.
"I always ask two questions: Why and why not? After five years, I never came up with a satisfactory answer to, Why not?" Arokiasamy said. "If I couldn't get a why not, it means we can do it, so that's why we started working on it."
He quickly found staging a cross-country stage race of this magnitude was a huge undertaking.
He's quiet about his plans to land 30 major sponsors at $1 million to fund the event and speaks in generalities when it comes to specifics.
Though there is a tentative plan where the tour will head, he said there's still work to be done on getting cities to agree to serve as hosts for the rolling circus.
"We're quite far along," Arokiasamy said. "In some areas, we're not as far as we'd like to be. In other areas, we're farther than we thought.
"I'd say it's 90 percent; 85 to 90 percent it's going to happen in '08."
'They're very skeptical'
Arokiasamy considers March 31 as the drop-dead date.
If he and his 85-employee company meet certain unnamed objectives by then, the event's a go for, symbolically, this Sept. 11. If not, the inaugural event would be pushed back to 2009.
"We don't want to do something small," Arokiasamy said. "I don't want to get two, three years into an event that loses money and then try to get to the point where we start making money."
Arokiasamy said established top-tier cycling teams are interested - especially in the big payday - but skeptical.
"There's some caution of who we are and what we're trying to do," he said, "especially what we're trying to do in Year One. : They're very skeptical. And I respect that. But the cyclists are intrigued by it, especially with the kinds of prizes we're putting together. It has the potential to put a lot of money in their pockets."
But will it catch on with an American public that, despite success in the recent tours of California and Missouri, seems to have little interest in competitive cycling?
And at a time the sport is taking a beating because of frequent - and high-profile - doping dramas?
"I look at it differently," Arokiasamy said. "Hey, cycling is going through a tough time. There are all these drug problems, all these things going on, so much negativity around it. But I look at it differently. Look at other sports and tell me nobody uses steroids in football. That's not true. Football has never, ever tried to address the problem at all, and it hurts kids. I'd rather be associated with a sport that's honest and takes the challenge head-on. The integrity of the cyclist is held over the interests of the promoter.
"I'm very excited. I think the climate is tremendous for this."
Copyright 2018 The Lawrence Journal-World. All rights reserved. This material may not be published, broadcast, rewritten or redistributed. We strive to uphold our values for every story published.