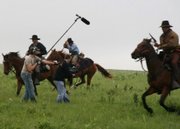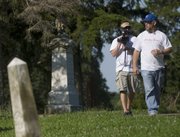 Bloody Dawn: The Lawrence Massacre
When: 7 p.m. Saturday
Where: Liberty Hall Cinemas 644 Mass.
Tickets: $8 (all-ages event)
More info: 749-1972
As a boy, Ken Spurgeon would often peruse a family diary that gathered stories of his great-great-grandfather, Joseph Madison Spurgeon, and the man's role during the Civil War.
Joseph was a member of the Ninth Kansas Cavalry, and he became part of the force commissioned to pursue infamous bushwhacker William C. Quantrill after the leader's raid on Lawrence.
In some respects, the Spurgeon family continues to pursue Quantrill to this day. Only now, Ken Spurgeon is taking aim with a camera.
His directorial debut, "Bloody Dawn: The Lawrence Massacre," will premiere in Lawrence on Saturday. The documentary details the events surrounding the Aug. 21, 1863, incident in which several hundred Missouri raiders led by Quantrill rode into Lawrence while the town slept, gunning down its citizens and torching their property.
"I've wanted to do this story for a long, long time. This is probably one that's a little more personal to me," says Spurgeon, whose ancestors settled in Kansas in 1857.
"I feel like we're so far removed that we don't understand how severe of an event it was. It was so shocking compared to anything else in the Civil War. The Civil War was terrible, but there were no other Lawrence-type massacres. That wasn't happening in Virginia or Pennsylvania or South Carolina - 180 people were not being pulled out unarmed who were not part of the military establishment and being executed. Even for all the violence that was out here, that was shocking for its level, extent and ferocity."
Spurgeon based his film on the 1992 book of the same title by historian Thomas Goodrich. He says the composition "really put me in the moment" upon reading it for the first time 15 years ago.
Cinematic hybrid
Author Goodrich is one of the many experts Spurgeon interviews in "Bloody Dawn." But the film hardly relies on a gallery of static talking heads.
Spurgeon decided to attempt an unusual tactic when crafting his documentary that steers it into the realm of vivid docudrama.
The opening 45 minutes is composed of a documentary that sets up Quantrill's raid. But at that point the enterprise switches narrative gears, resulting in a half-hour, large-scale re-enactment of the invasion. Then the film resumes with 15 minutes of post-raid commentary.
"I've tried to give a historical context to walk the viewer up to the raid, then shut everything off and simply raid," he says. "I've heard several people tell me that's a gamble. I know it is. But I still like the idea of it. I hope it will be engaging."
Spurgeon funded the project through a grant from the Kansas Humanities Council. His own Lone Chimney Films (a nonprofit) produced the endeavor.
The filmmaker shot most of the interviews with historians and military experts in Lawrence, but the re-enactment parts were scattered throughout 10 different locations in Kansas. The latter utilized a combination of existing buildings and constructed sets that were meant to be burnt.
"We really used a lot of the state to make it all look like one," says Spurgeon, who previously wrote and produced the 2005 documentary "Touched by Fire: Bleeding Kansas, 1854-1861."
"Bloody Dawn" represents the first time Spurgeon dealt with people like set designers, costumers and horse wranglers, in addition to trying to wrangle a substantial cast of extras.
"To be honest, I didn't get all the numbers that I wanted," the 43-year-old says. "I wanted to get a huge scene. But it was pretty close.
"I wanted to show the severity of this massacre. We shouldn't forget it. While you don't want to bask in it, you do want to say this was very significant and shouldn't be forgotten. This massacre showed us that people do things in war that they would never ever do in peacetime. Once you let the genie out of the bottle of war, chaos reigns."
Modern parallels
"There are a lot of things that are compelling about this tragedy," says Lawrence historian Paul Stuewe, one of the main sources who appears in "Bloody Dawn."
"It was during the most devastating war in American history, where we were fighting ourselves. But it was not actually a battle. It was a group of men who were basically outlaws. They were not soldiers and not really fighting for a cause as much as 'revenge and plunder,' which were actually Quantrill's words when he was asked why he did this."
Stuewe, who frequently leads Quantrill's raid tours in Lawrence, says the townspeople in 1863 were completely unprepared for such an encounter.
"Prior to this raid, if you were a raider you would be killed. But if you were somebody who was just a farmer or person living in town, they would steal your animals and burn your house, but they wouldn't go up to you in cold blood and kill you. These men in Lawrence weren't fighting. This was not some kind of battle. They had surrendered. They had given up. They thought they were going to lose their property, but most of these guys didn't think they were going to get murdered," says Stuewe, who retired three years ago from teaching history at Lawrence High School and now works at Blue Valley West.
As for how this event has helped shape history, Stuewe admits the lessons learned are quite applicable to modern times.
"These Missourians and Kansans were both Americans. They were the same race. They were basically the same religion. They believed in democracy, capitalism, all those kinds of things. If they were so similar, what would cause them to commit an act of violence like this?
"The answer is that it was an accumulation of hate that built up over an amount of time. So if we look at the Middle East, and at Sunnis and Shiites in Iraq, and we say, 'Why are they killing each other? They're Muslims and they're from the same country.' Well, it shows you this can happen."
Crucial history lesson
"Bloody Dawn" will debut tonight in Wichita prior to its Saturday screening at Liberty Hall. Then it will appear at 12-15 venues around the state, says Spurgeon, who hopes to eventually sell the movie to the History Channel or PBS before putting it out on DVD.
The Wichita native graduated with a masters in history five years ago. He now makes his living as a teacher, recently at Cowley County Community College in Wichita and currently at a neighboring high school.
"I want the kids of today to know this story," Spurgeon says.
"I come into contact with 500 new people every semester. One out of 30 students might have heard of Quantrill's raid. These stories are just not getting to the people of Kansas. Our mission for launching these films is to bring Kansas history to life."
Copyright 2018 The Lawrence Journal-World. All rights reserved. This material may not be published, broadcast, rewritten or redistributed. We strive to uphold our values for every story published.