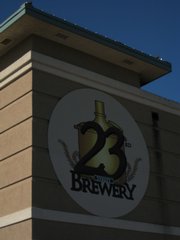 The 23rd Street Brewery in Lawrence is more than just a bar and a restaurant.
According to its Web site, www.brew23.com, it also is a catering company, banquet facility, beer distribution operation, fundraising machine for local charities and venue for promotional parties.
The wide range of ventures the business is involved in at 3512 Clinton Parkway is why it received special recognition from the Lawrence Chamber of Commerce. The brewery was a recipient of the Excellence in Commerce award in the retail category.
"It was a great honor to be recognized by the chamber and be up there with all those other names," said Matt Llewellyn, managing partner for the brewery, who grew up in Lawrence and is a Lawrence High School graduate.
"As a locally owned establishment, Matt Llewellyn understands the importance of being a good community citizen," said Beth Johnson, vice president for economic development at the chamber. "Matt has graciously hosted and donated to charitable events in an effort to truly give back to is community."
The brewery is well-known for its home-brewed beer. It regularly offers four brewed beers while a dark beer is rotated, and there are always a couple of specialty beers.
The brewery earned a medal in 2007 at Denver's Great American Beer Festival.
The site has a 15-barrel pub-brewing system on the upper level of the bar and restaurant. In the past year it has doubled production to exceed 1,000 barrels per year and distributes to other bars and restaurants in Lawrence and around the state, including several Old Chicago locations.
"I certainly hope we will be in a lot more of them" in the future, Llewellyn said.
The restaurant aspect of the business has a varied menu, from Cajun pasta to ribs and steaks.
The brewery also is known as the site for celebrating the first day of summer, Fat Tuesday and St. Patrick's Day, among others.
Llewellyn managed the brewery when it was called the 75th Street Brewery, which had ownership ties to a bar and restaurant in Kansas City, Mo., with the same name. In 2006, Llewellyn took on a larger ownership role, and the Lawrence establishment's name was changed. He said he is always striving for improvement.
"Everything we did last year we certainly try to do again, only do more of it," he said.
Copyright 2017 The Lawrence Journal-World. All rights reserved. This material may not be published, broadcast, rewritten or redistributed. We strive to uphold our values for every story published.