This year is one long potato party.
The United Nations has declared 2008 the Year of the Potato, with hopes of raising awareness for how the tubers can play a major role in feeding the poor around the world.
In announcing the potato focus late last year, Jacques Diouf, director general of the U.N. Food and Agriculture Organization, said potatoes will be key in responding to the world's booming population.
"In most places, potato is eaten by poor people," Diouf said. "Through increased productivity, the developing countries have doubled their production in 15 years."
Here are some facts about the potato, according to the U.N. and National Potato Council, in case you're planning a 2008 potato party of your own:
¢ Potatoes trace their roots to the Andes in South America for about 8,000 years. They were taken by the Spanish to Europe in the 16th century, and then the tubers spread around the world.
¢ Today, about 75,000 square miles of farmland worldwide is devoted to growing potatoes.
¢ Farmers harvest about 347 million tons of potatoes each year, half of which are in developing countries. That makes potatoes the world's No. 4 food crop.
¢ United Nations officials think the potato is well-suited to deal with future food needs because "it is ideally suited to places where land is limited and labor is abundant, conditions that characterize much of the developing world."
¢ Potatoes are high in carbohydrates, making them a good source of energy. They also have the highest protein content of the roots and tuber crops and are rich in potassium vitamin C.
¢ Not surprisingly, Idaho topped U.S. potato production in 2005 - the most recent data available - with 11.8 billion pounds. Washington was second with 9.5 billion.
¢ The National Potato Council estimates the average American eats 126 pounds of potatoes each year. That includes frozen potatoes (53 pounds), fresh (42 pounds), potato chips (16 pounds), dehydrated potatoes (14 pounds) and canned potatoes (1 pound).
¢ Mr. Potato Head, the famous spud with interchangeable body parts, was introduced in 1952 by Hasbro.
Think potatoes can be baked and nothing else? Think again. Here are some ways to spice up your potatoes, courtesy of "The Ultimate Potato Book" by Bruce Weinstein and Mark Scarbrough.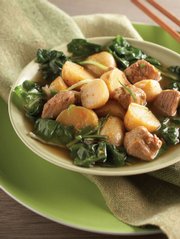 Red cooking pork and potatoes
"Red cooking" is a traditional Chinese braise, a stew that used to be made with unfiltered soy sauce, which can take on a reddish cast when long-stewed.
2 cups reduced-sodium chicken broth
6 tablespoons dry sherry
1/4 cup reduced-sodium soy sauce
1/4 cup minced, peeled fresh ginger
1 tablespoon finely grated orange zest
1 tablespoon honey
2 1/4 pounds boneless pork loin, trimmed and cut into 1-inch cubes
2 pounds very small yellow-fleshed potatoes, halved
9 medium scallions, cut into 2-inch strips
2 serrano chiles, seeded and minced
3 garlic cloves, slivered
3 star anise pods
3 4-inch cinnamon sticks
1 tablespoon sesame oil
1 1/2 pounds Swiss chard, mustard greens or turnip greens, rinsed (but not dried) and chopped
2 tablespoons rice vinegar
Stir broth, soy sauce, ginger, sherry, orange zest and honey in large pot until honey dissolves. Add pork, potatoes, scallions, chiles, garlic, star anise and cinnamon sticks. Stir well and bring to a simmer over medium-high heat. Cover, reduce heat to low and simmer slowly until pork is meltingly tender, stirring occasionally, about 2 hours. (Alternatively, stir all these ingredients in slow cooker, cover and cook on low about 8 to 9 hours.)
Meanwhile, heat oil in large skillet over medium heat. Add greens and vinegar. Cover, reduce heat and cook, stirring occasionally, until wilted and tender, about 12 to 15 minutes. Cover and keep warm on stove.
To serve, first discard star anise pods and cinnamon sticks. Divide greens among serving bowls, then ladle stew over greens.
Makes 6 servings.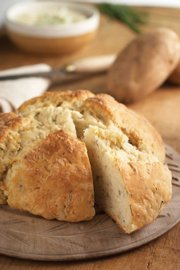 Irish potato bread
Boxty is practically a national dish in Ireland. It can be served as a potato pancake, a dumpling or, as here, in a crunchy soda bread.
2 3/4-pound russet potatoes
1 large egg plus 1 large egg white
1/3 cup canola oil, plus additional for greasing the baking sheet
3/4 cup fat-free milk
2 tablespoons minced chives (or the green part of a scallion)
1/2 teaspoon caraway seeds
3 1/4 cups all-purpose flour, plus additional for dusting and kneading
1 1/2 tablespoons baking powder
1 teaspoon salt
Bring 1 inch water to a boil over high heat in vegetable steamer or large saucepan fitted with portable vegetable steamer. Peel 1 potato and cut into eighths; steam pieces until tender when pierced with fork, about 15 minutes. Rice or mash pieces in large bowl; set aside to cool 15 minutes.
Position rack in center of oven; preheat oven to 375 degrees. Lightly oil large baking sheet with canola oil dabbed on paper towel.
Peel other potato and grate it through large holes of box grater. Squeeze out any excess moisture; add to riced or mashed potatoes.
Stir in egg, egg white, oil, milk, chives and caraway seeds until fairly smooth. Add 3 1/4 cups flour, baking powder and salt; stir with wooden spoon until mixture forms soft but sticky dough.
Lightly flour clean work surface as well as your cleaned and dried hands. Turn dough out onto floured surface and knead 1 minute, adding flour in 1-tablespoon increments to keep dough from turning too sticky. Too much flour and dough turns tough; it should remain a little tacky but workable. Shape into 8-inch circle, flatten slightly keeping loaf mounded at its center and place on prepared baking sheet. Use a sharp knife to slash X in top of dough, cutting into dough about 1/2 inch.
Bake until golden brown and firm to the touch , about 55 minutes. Cool 1 hour on wire rack before slicing and serving.
Here's a traditional curry from Kerala, the gorgeous southwestern strip of India, where the spice-laden land meets the Arabian Sea.
Kootu curry
1/2 cup plus 6 tablespoons unsweetened coconut (see note)
1 1/2 teaspoons ground ginger
1 1/2 teaspoons ground coriander
1 1/2 teaspoons ground cumin
1/2 teaspoon salt
1/2 teaspoon dry mustard
1/2 teaspoon ground cinnamon
1/4 teaspoon freshly ground black pepper
1/4 teaspoon cayenne
1 pound plus 2 ounces red-skinned potatoes, cut into 1-inch cubes (3 cups)
2 1/4 cups reduced-sodium vegetable broth
2 1/4 cups peeled, diced eggplant
1 1/2 cups chopped green beans
3/4 cup canned chick peas, drained and rinsed
2 teaspoons canola oil
3/4 cup thinly sliced shallots
1 tablespoon lemon juice
Place 1/2 cup coconut, ginger, coriander, cumin, salt, dry mustard, cinnamon, pepper and cayenne in spice grinder or mini food processor; grind or process until about the consistency of coarse sand.
Stir potatoes and broth with spice mixture in large saucepan; bring to a simmer over medium-high heat, stirring occasionally. Cover, reduce heat to low and simmer slowly 10 minutes.
Add eggplant, green beans and chick peas. Cover and continue simmering slowly until vegetables are quite tender, about 30 minutes.
Meanwhile, toast remaining 6 tablespoons coconut in dry skillet over medium heat until lightly browned. Pour into bowl and set aside.
Heat oil in same skillet now set over medium-low heat. Add shallots; cook, stirring occasionally, until lightly browned, soft, and very sweet, about 12 minutes.
Stir lemon juice into stew. Serve stew in bowls, topped with toasted coconut and frizzled shallots.
Note: Unsweetened coconut, sometimes called "desiccated coconut," is simply dried, shaved coconut flakes. It's found in gourmet markets, East Indian markets and health food stores. Do not substitute sweetened coconut, found in baking aisles of most supermarkets.
Country Ham and Potato Saut
8 cups water
1 teaspoon salt
1 bay leaf
4 carrots, peeled and cut into 1/4-inch dice (3 cups)
3 potatoes, peeled and cut into 1/4 inch dice (3 cups)
3/4 cup butter
4 ounces country ham or prosciutto, minced
1/2 cup onion, minced
2 teaspoon Cornstarch
1/2 cup reserved liquid from cooking the potatoes and carrots
2 tablespoons thyme leaves, minced
1 tablespoon garlic, minced
1 teaspoon hot chili sauce
In a medium saucepan over high heat, bring the water, salt and bay leaf to a boil. Add the carrots, lower the heat, and simmer for 3 minutes. Add the potatoes and simmer for an additional 10 minutes, until both vegetables are soft. Drain, reserving the liquid and discarding the bay leaf. Set aside.
In a large saute pan set over high heat, melt the butter, add the country ham, and saute until golden on the edges, about 3 minutes. Add the onion and continue to saute another minute. In a small bowl, dissolve the cornstarch in 1/4 cup of the reserved cooking liquid, and then whisk it into the country ham mixture along with the thyme, garlic, and chili sauce. Continue to simmer, whisking until the sauce is lightly thickened.
Add the potatoes and carrots and simmer to reheat. Thin with additional cooking liquid if necessary to make a light think sauce coating the vegetables.
- Source: Idaho Potato Commission
Chile-Corn Mashed Potatoes
2 potatoes, peeled and cubed
2 1/2 ounces unsalted butter
1/2 cup milk
4 cloves garlic, minced
6 ounces fresh corn kernels
2 teaspoons pure chile powder
1 teaspoon cilantro, chopped
1 teaspoon honey
Salt to taste
In saucepan, place potatoes with enough water to cover by 2 inches. Bring to boil, reduce heat and simmer 15-20 minutes, until tender. Drain thoroughly.
Meanwhile, in small skillet, melt butter in milk. Bring to boil; add garlic and corn. Reduce heat and let simmer 3 minutes. Sprinkle in chile powder.
Strain mixture, reserving corn separately from liquid. Place cooked potatoes in large mixing bowl.
With electric mixer, whip potatoes while drizzling in reserved liquid. When consistency is right, stir in the corn, cilantro and honey.
Season with salt.
- Source: Idaho Potato Commission
Greek potato salad
4 medium potatoes, peeled and cut into 1/2-inch chunks
8 ounces green beans, stem ends trimmed, cut into 1-inch lengths
3/4 cup buttermilk
2 tablespoons extra virgin olive oil
1/2 teaspoon grated lemon zest
1 tablespoon fresh lemon juice
1/2 teaspoon salt
1 large cucumber, peeled, halved lengthwise, seeded and thinly sliced
1 cup cherry tomatoes, halved
1 medium red onion, halved and thinly sliced
1/4 cup snipped fresh dill
4 ounces feta cheese, crumbled
In a large pot of boiling salted water, cook potatoes about 12 minutes, until crisp-tender. Add green beans and cook 2 minutes longer. Drain well.
Meanwhile, in a large bowl, whisk together the buttermilk, olive oil, lemon zest, lemon juice, and salt. Add potatoes and green beans and toss gently to coat.
Add cucumber, tomatoes, red onion and dill; tossing gently. Cool to room temperature. Serve at room temperature or cover and refrigerate until serving time. At serving time, spoon onto 4 serving plates and sprinkle the feta over.
- Source: Idaho Potato Commission
Copyright 2018 The Lawrence Journal-World. All rights reserved. This material may not be published, broadcast, rewritten or redistributed. We strive to uphold our values for every story published.