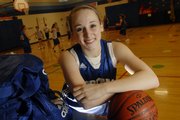 Roger Tiegreen shares a telling story about his daughter, Kristie - now a senior at Veritas Christian - and her less-than-stellar introduction to basketball.
It was eighth grade, and Kristie wanted to undertake a new sport - something more physically demanding than the gymnastics she already participated in. But on Kristie's first day of basketball practice, Roger noticed how skilled the other players were around his daughter, snapping off jump shots and executing dribble spin moves. Meanwhile, Kristie struggled to bounce the ball, let alone score a basket.
"I pulled her aside and said, 'Kristie, I'm sorry,'" Roger recalled. "'I know you'd like to play some kind of sport, but I think I might want to take you home.' Seriously, I was going to take her home."
Kristie wouldn't allow it. She never had quit at anything and wasn't about to start then. She rode the bench that entire first season, taking her lumps against more talented players and learning the game on the side from her dad, who would become her assistant coach at Veritas.
Turns out that decision to stick it out was the best choice the two could have made.
Showing her skills
Fast forward to Monday evening. A co-captain on the Eagles girls basketball team, Kristie no longer displays the timid nature of a newcomer dribbling the ball with both hands off her shoe, and she has worked hard to reach this point.
In fact, she leads the team with numbers that would make even the most heralded Division I recruits a little envious: 27 points and 12 rebounds a game for the 7-1 Eagles. In her team's season opener this year, she scored 30 points on an assortment of drives to the rim, short jumpers and three-point bombs. All this despite sitting out of the fourth quarter in a blowout victory - something that has become commonplace this season.
"She had no offensive skills when I first started coaching her in ninth grade," Veritas head coach Kevin Shelton said. "She's developed a lot of skills that's made her really difficult to guard. We haven't met many players that can put up a strong defense on her for an entire game."
Tiegreen's become a player who radiates confidence, instructing teammates while running plays specifically designed for her to score. In her fifth year of organized hoops, Tiegreen is the unquestioned leader of a Veritas team off to a surprising 6-1 start, the best beginning in school history.
Even her shoes demand attention: She wears two different pairs of Nikes. The left shoe is black and purple with a white Swoosh, the right one white and purple with a black Swoosh, the result of an air bubble popping in one shoe from each model.
Perhaps it's fitting that she outworked both pairs of Nikes because her hard-nosed play on the court has stood out as much as her mismatched sneakers.
"She's had the determination to do whatever it takes to improve," Shelton said. "She has that competitive instinct that doesn't let her quit. And that's hard to coach. Anything I've ever asked her to do, she's done."
For all the gaudy numbers she has put up as a four-year starter for the Eagles, she likely is the leader in another category: Kristie might just be the best player in the area that no one has heard of.
And that's just fine with her.
No more regrets
Until recently, Kristie - a 5-foot-9 forward - admitted she often wondered what might have been if she attended one of the city's Class 6A schools, Lawrence High or Free State High.
Would she have starred?
Would she be getting big-time college looks?
Would people know who she was?
"Obviously, if I went to a bigger school, I don't think I would score as many," she said, "but I know that I would work my hardest. Smaller schools a lot of times don't get as much exposure, but that's what AAU over the summer is for."
Last summer, while playing AAU for Warrior Hoops of Olathe, Kristie matched up against several girls from Free State and LHS. Only then did she realize she could hold her own against anyone from the city.
"It was cool to know that," Kristie said.
Kristie's dad credits the individual attention she gained from playing at Veritas for helping develop her game. While the city's public schools have enrollments of more than 1,000 students, Veritas has fewer than 160 students enrolled in kindergarten through high school and plays in the Kansas Christian Athletic Association.
"She's having a real opportunity because she would have never played initially at one of the bigger schools," Roger said. "She can compete with those girls now, but it's only because she's had time to get the experience."
Kristie is hoping the time and energy spent in the gym in the last five years will pay off with a college scholarship offer somewhere. Her coach is certain it will, but he makes sure Kristie sets a good example on the court in the meantime.
"As a senior, when she could be out showboating and doing more on her own, she's really trying to develop more of a team aspect because we never know who's in the stands watching," Shelton said.
Copyright 2018 The Lawrence Journal-World. All rights reserved. This material may not be published, broadcast, rewritten or redistributed. We strive to uphold our values for every story published.