Photo Gallery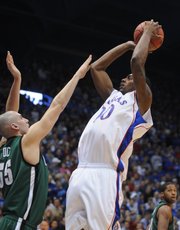 KU vs. Loyola (Md.)
Bill Self was mad at Brandon Rush and let his star player know it.
"Coach was pretty angry. He jumped me a little bit at halftime. I was not shooting the ball at all. I don't think he was pleased with me," said Rush, Kansas University's junior guard who attempted just three shots the first half of Tuesday's 90-60 rout of Loyola College.
He put up just one point in 13 minutes as KU took a 41-24 lead into the locker room.
Yes, Self was upset, and he mentioned it in no uncertain terms in his postgame news conference.
"I did tell Brandon to be more aggressive, but it's pretty sad three years into it a coach has to tell a really good player to be aggressive playing the game of basketball," Self said. "If that sounds like I'm pleased with him offensively or displeased, you guys can read into that however you want to because a coach should never have to tell his leading scorer the last two years to be aggressive. But we have to do that way too often.
"It's frustrating to me," Self added. "Here's a guy ... we're not going to be a really good team unless he plays to his talent level offensively. Certainly he can do a better job of that. He'll be the first to tell you that. For whatever reason, he shies away from shooting the ball."
With his ears stinging, Rush opened the half by scoring six straight points and finished with nine off 3-of-7 shooting in 24 minutes.
"Today wasn't my day. I didn't look for my shot at all. I didn't rebound the ball, didn't go to the glass. My mind was not into it. I don't know why," Rush said, indicating Self's words did get through to him.
"I know what he's saying. The team needs me to score. Coach just said, 'Brandon, you need to stay aggressive, need to look for your shot more.' I'll do that."
Rush said he'll never get to the point he "hogs the ball."
"I'm not going to do that. That's not my personality. I'm unselfish. I look for other people, too," he said. "When somebody gets the hot hand, like 'Shady' (Arthur) did early, I like getting him the ball. I just have to look for my shot."
Self said he wasn't upset with Rush.
"I love Brandon," Self said. "But how in the world? ... We talk about the same thing all the time. He needs to be more aggressive."
"I accept it," Rush said of Self's words of instruction. "He knows what I need to do to help the team. I tried to do better the second half. I was more aggressive."
Copyright 2018 The Lawrence Journal-World. All rights reserved. This material may not be published, broadcast, rewritten or redistributed. We strive to uphold our values for every story published.